---
Bronfman, NXIVM, Epstein, Zionism and paedophilia - Firestarter - 06-29-2019

One of the most important families – Bronfman – you've probably never even heard of.
The Bronfmans are associated with just about anybody that matters in government, finance, media and entertainment; in the US, Canada and Israel.




Seagram bootlegging – John McCain


Edgar Bronfman Jr. was the chairman of Warner Music Group.
Charles Bronfman is the owner of Seagram liquor, net worth $2 billion.

John McCain's political career was also an offshoot of the bootlegging and rackets empire of the Bronfman dynasty of Canada.
McCain's father-in-law, Jim Hensley, got his start as a henchman of Kemper Marley who, for some 40 years until his death in 1990, was the undisputed behind-the-scenes political boss of Arizona. Marley was a protégé of Meyer Lansky's long-time lieutenant, Gus Greenbaum. It was really Jim Hensley that made McCain successful in politics.

Sam Bronfman, founder of the Seagram liquor empire, was an early partner of Meyer Lansky.
In 1947, Greenbaum took command of Lansky's Las Vegas interests after Lansky had his long-time friend, Benjamin "Bugsy" Siegel, executed for skimming profits from the new Flamingo Casino.
In 1948, Greenbaum and his wife were murdered by having their throats cut.

In 1948, some 52 of Marley's employees (including Jim and his brother Eugene Hensley) went to jail on federal liquor violations - but not Marley.
Jim Hensley also tried his hand on dog racing and sold his dog racing track to an individual connected to the Buffalo-based Jacobs family. The Jacobs were the leading distributors for Bronfman liquor into the US during Prohibition into the hands of local gangs of the Lansky syndicate.

In 1976, Phoenix reporter Don Bolles was murdered by a car-bomb after writing stories on the organised crime connections of well-known figures in Arizona, including Jim Hensley: http://www.libertylobby.org/election2000/aboutBuchanan/gangsters.html
(archived here: http://archive.is/SQU71)

More details on James "Jim" Hensley and his older brother Eugene can be found in the following story.
The Hensley brothers were partners with a powerful Phoenix businessman named Kemper Marley, who had cornered a large share of Arizona's wholesale liquor business after Prohibition was lifted in 1933.
The Hensleys and Marley continued their partnerships by creating 2 corporations in 1946 - United Sales Incorporated in Phoenix, and United Distributors Incorporated in Tucson. At that time, Eugene Hensley was president of both companies, while James Hensley served as secretary. Kemper Marley was vice president of these companies.

According to a federal criminal indictment from 1945 to 1947, the Hensleys made approximately 1,284 false entries for the sale of thousands of cases of liquor by their two companies - United Sales Company in Phoenix and United Distributors in Tucson.
Joseph F. Ratliff testified that Jim Hensley falsified invoices.
Jack Baldwin, salesman and supervisor at United Sales, testified that Eugene Hensley regularly instructed him to draw up false invoices, transfer scores of cases of liquor offsite and deliver premium whiskeys to selected black-market clients.

In 1948, Jim Hensley was sentenced to 6 months in jail and his brother Eugene to one year. After 2 weeks in Maricopa County jail, they were released on bond on 17 May 1948, pending an appeal. The appeals court affirmed the conviction on 8 February 1949.
Eugene was again sentenced to 1 year in a federal prison camp near Tucson, but Jim's sentence was suspended, and he was placed on probation instead. They were also fined $2,000. United Sales and United Distributors were also fined $2,000.

In 1953, Jim Hensley was again charged with federal liquor crimes. This time, the government accused Jim and others of United Liquor Company and United Liquor Supply Company of falsifying records to evade taxes. A jury acquitted the 2 companies and its employees on all 11 counts.

In 1952, Jim and his brother Eugene Hensley purchased the Ruidoso Racing Association in New Mexico. The New Mexico Racing Commission was concerned about the Hensley brothers' ties to Phoenix gambler Clarence E. "Teak" Baldwin.
The Hensleys denied that Baldwin had an interest in the track, but records indicated that Baldwin had a one-third stock interest in the track.

In 1963, Eugene Hensley was sued by minority partners for $415,000. They accused him of using track money to improve his Scottsdale home, build a guest house for his personal use, and used the track's airplane for personal pleasure. The lawsuit was settled after Eugene Hensley agreed to return 1,000 shares of Ruidoso Racing Association stock that was worth $350,000.
In 1966, Eugene Hensley was again accused of tax evasion. He was convicted in a trial that showed he had used track money to buy several cars and given them to his wife and a girlfriend. In 1969, Eugene Hensley entered a federal prison in Texas.
In 1969, Eugene Hensley sold his remaining interest in the track to NewCo Industries Incorporated, which immediately signed a 20-year concession contract with Emprise Corporation of Buffalo, New York.

On 2 June 1976, Don Bolles was fatally wounded by a car bomb. Before lapsing into a coma, Bolles uttered the words, "

Adamson, Emprise, Mafia

". He died 11 days later.
Adamson testified he was hired to kill Bolles by Max Dunlap, a close associate of Marley's, and that the bomb was detonated by James Robison. Marley had extended a $1 million loan to Dunlap, which wasn't repaid.
Adamson served a 20-year prison sentence and has since been released. Dunlap was sentenced in 1994 to life in prison for first-degree murder.
Robison was first convicted, but his case was overturned on appeal and he was acquitted in a 1993 retrial: http://prorev.com/2008/08/mccain-story-media-hasnt-told-you.html
(archived here: http://archive.is/OL9pB)

See John McCain meeting the husband of Sara Bronfman, Basit Igtet, in Benghazi, Syria, 2011.






Trudeau


Trudeau's link to the Bronfman family aren't mentioned nearly enough...

Justin Trudeau's long-time friend is Stephen Bronfman, cousin of Clare and Sara Bronfman. Since 2013, Bronfman assisted Trudeau in his meteoric rise to Canadian Prime Minister as chief fundraiser and senior adviser.
See Stephen Bronfman (left) with his buddy Justin Trudeau, 28 Augustus 2013.



Bronfman runs the Montreal-based investment firm Claridge, to manage the vast wealth of the Seagram liquor empire, which became rich in the 1920s by supplying illicit alcohol to the US during the prohibition.
One of Claridge's clients was the Cayman Islands-based trust of Leo Kolber, Stephen Bronfman's godfather and chief fundraiser of the Liberal party. Kolber was a long-time friend of Pierre Trudeau, Justin's father, who as PM appointed Kolber to the Canadian senate in 1983.

In November 2017, controversial news on Stephen Bronfman's tax evasion schemes, involving millions of dollars to offshore havens, was published. Multimillion-dollars flowed between the US, Canada, Israel and the Cayman Islands.
Bronfman and Kolber really formed one intertwined syndicate. The loan arrangements were unusual. For example a contract tied to a Charles Bronfman loan in 1991 of almost $ 10 million said: "

The loan shall bear interest at such rate as may be determined between the parties from time to time

".

After switching the debt from Claridge Israel, the Kolber trust paid the US-based Bronfman trusts about $40,000 in interest. A related email said:
Quote:As there was never supposed to be interest paid on this debt in substance (only in form), the [Kolber trust] needs to be compensated by the Bronfman trusts for these cash outlays, in some manner to be agreed upon by both parties.
One idea was to get Kolber to register the interest paid to Claridge as "

a fee for services rendered, equal to the interest

.
See a second email from May 2004, where the financial adviser details how the interest issue might be resolved, with the "

intention to 'make you whole' somehow

".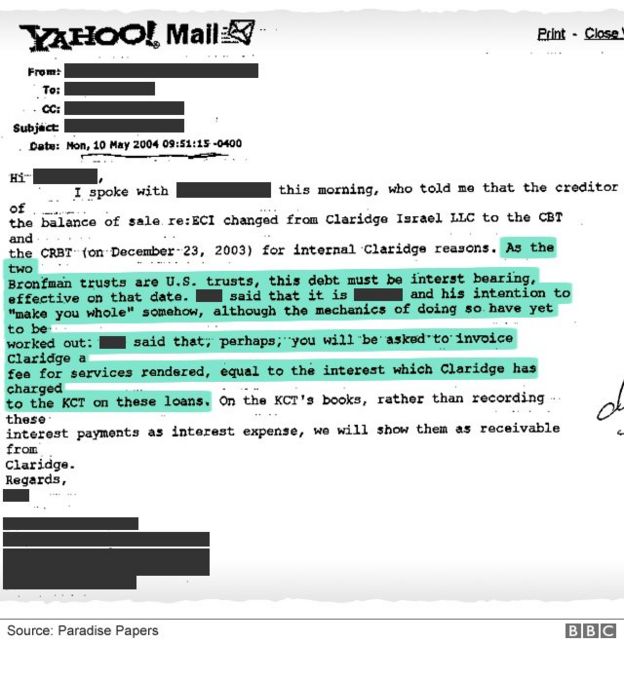 A lawyer representing Jonathan Kolber and the Bronfmans denied improper activity: https://www.theguardian.com/news/2017/nov/05/justin-trudeau-adviser-stephen-bronfman-offshore-paradise-papers
(archived here: http://archive.is/PlSqe)

Leo Kolber once referred to himself as the Bronfman family's "consigliere".

The Bronfmans helped start the Kolber trust in 1991 with millions of dollars, including a $5.3 million loan in 1997. By then the trust had already collected almost $40 million. In total the Bronfman family and their US-based trusts loaned the Kolber Trust more than $34 million. All of it ended up in the no-tax Cayman Islands.
At least some of the loans were interest free, including a $4 million loan in 2002 from Claridge to the Kolber Trust. Interest-free loans are often used for money laundering and/or tax evasion schemes...

Huge amounts were transferred from the Kolber Trust to Leo's children.
In 2007, $3 million was wired to Jonathan Kolber for "living expenses" and to purchase a Manhattan apartment. In total, he received $16.5 million tax-free from the trust.
Lynne Kolber received $1.2 million, but got into tax problems. In 2007, Lynne "forgot" to declare $1.27 million from the trust for the previous decade, for which she had to pay back taxes.
The trust managers devised a plan so she could get funds tax-free, by "gifts" from her brother Jonathan. In the US, gifts between family members are tax-free.

In 2014, Israel tightened its offshore trust laws, and in 2016 the Kolber Trust was dissolved: https://www.cbc.ca/news/business/stephen-bronfman-trudeau-paradise-papers-1.4382511
(archived here: http://archive.is/i5dfF)




Bush, Munk


More interesting links from the Bronfman family to:
- Peter Munk - Nat Rothschild's and Oleg Deripaska's business partner.
- George H.W. Bush – former US President and CIA director.
- Adnan Khashoggi – arms dealer, amongst others to Ayatollah Khomeini's Iran in the 1980s.

The late Peter Munk was the chairman of both Barrick Gold Corp and Trizec. Munk was a close friend of the Bronfmans, who owned Trizec. Trizec is a real estate conglomerate that owns a large share of Barrick.
Peter Munk was a regular skiing partner of Crown Prince Charles. Munk was a member of the "1001 Club" founded by Prince Philip of Britain and Prince Bernhard of the Netherlands.
Munk and Barrick director Andrew Sarlos are close associates of Rothschild agent George Soros, a personal investment director to Queen Elizabeth.

George Bush Sr. was Barrick Gold's chief lobbyist, stockholder in Barrick, and honorary senior adviser to Barrick's international advisory board.
Brian Mulroney, was George Bush's errand boy, Canadian PM (1984-93) and also on Barrick's international advisory board.

In 1974, Munk signed an investment partnership agreement with the late Saudi arms-trafficking billionaire Adnan Khashoggi.
Khashoggi was one of the main funders of Barrick Gold Corp.: https://www.larouchepub.com/eiw/public/1997/eirv24n02-19970103/eirv24n02-19970103_019-inside_story_the_bush_gang_and_b.pdf




Khashoggi, Manafort


Mohamed al-Fayed worked for Khashoggi and married Adnan's sister, Samira Khashoggi, Dodi's mother.
Adnan Khashoggi was once arrested for helping Ferdinand and Imelda Marcos with embezzling money: https://www.independent.co.uk/News/obituaries/adnan-khashoggi-dead-saudi-arabia-arms-dealer-playboy-dodi-al-fayed-uncle-dies-died-diana-a7776776.html

Bronfman's and Oliver North's Saudi partner in crime, Adnan Khashoggi, has been involved in a bunch of scandals. There are stories about: Iran-Contra, money laundering for Ferdinand Marcos and 9/11.
Khashoggi's second wife, the Italian Laura Biancolini, was only 17 when they met.

Much of Adnan Khashoggi's fortune, once estimated at $4 billion (he was once described as the "richest man in the world"), came from selling arms.
He received huge commissions (as high as 15%) from Lockheed Martin (from the US), the British firms Marconi and Westland Helicopters.
Khashoggi earned $184 million on $4.2 billion worth of F-5 fighter planes from Northrop to Saudi Arabia in 1970. Northrop also admitted it paid $450,000 to two Saudi generals at Khashoggi`s suggestion. Khashoggi had close ties to the Saudi royal family and also arranged billions of dollars worth of arms from Lockheed. Lockheed and Northrop also paid huge commissions to Prince Bernhard of the Netherlands…
Some of Khashoggi's commissions were probably laundered through front companies in Switzerland and Liechtenstein.

In the 1960s, Khashoggi became friends with Richard Nixon (him again…) and funded his US Presidential election campaigns.
In 1994, Khashoggi accused his rival Wafic Said of securing an arms deal for Britain by using Mark Thatcher and then PM Margaret Thatcher. Mark Thatcher denied that he received $18 million in kickbacks.
In March 2003, the New Yorker reported that Khashoggi met Richard Perle shortly before the invasion of Iraq started.

Khashoggi was wanted by the US government for helping former dictator of the Philippines, Ferdinand Marcos, hide his wealth.
Khashoggi helped Marcos conceal his ownership of several Manhattan skyscrapers. He was accused of helping Marcos and wife Imelda, concealing $103 million of looted Philippine tax money and defrauding $165 million from US banks: https://www.independent.co.uk/news/long_reads/adnan-khashoggi-dead-saudi-arms-dealer-playboy-pleasure-wives-billionaire-lifestyle-wealth-profit-a7778031.html
(archived here: http://archive.is/N4wh4)

Trump's former campaign chairman, Paul Manafort, was also in business with Filipino dictator Ferdinand Marcos.

There is an even closer connection between Manafort and Khashoggi through his representative in Spain - Abdul Rahman Al Assir from Lebanon. Al Assir was once brother-in-law of Adnan Khashoggi. He arranged big weapons sales to African armies.
The London-based Sourakia once wrote:
Quote:The miracle of Al Assir is that he will have lunch with Don Juan Carlos [king of Spain], dinner with Hassan II [king of Morocco], and breakfast the next day with Felipe González [prime minister of Spain].
In the late 1980s, Manafort became friends with Al Assir. In 1989, Manafort took Al Assir as his guest to George H.W. Bush's inauguration.
In the '90s, Manafort and Al Assir were putting together big deals. Including an arms sale from France to Pakistan, that involved bribes and kickbacks to high-level officials in both countries. Manafort and Al Assir were not only business partners but even "very brotherly". Manafort became the godfather of Al Assir's child. They went on a holiday together near Cannes.

In 2003, Manafort's partner Rick Davis was invited to a meeting in Manhattan with Nathaniel "Nat" Philip Victor James Rothschild, heir apparent to the Rothschild trillions: https://www.theatlantic.com/magazine/archive/2018/03/paul-manafort-american-hustler/550925/
(archived here: http://archive.is/xZp9Z)

Adnan Khashoggi was also one of the financial backers of the jazz movie "

The Cotton Club

" (1984).
Robert Evans was the film's producer, who hired Francis Ford Coppola as director for the film.

Robert Evans has been married 7 times, including to Camilla Sparv (1964-1967) and Catherine Oxenberg (for 1 ½ weeks in 1998).
Camilla Sparv's third husband is one Fred Kolber (I haven't found any information on him and don't know if he's related to Leo…).
Catherine Oxenberg is best known for her role of Amanda Carrington in Dynasty, but in this context it's more important that she has complained that her daughter is a mind-controlled slave of the NXIVM cult.

In 1980, Robert Evans was convicted of cocaine trafficking (with his brother Charles): https://wikivisually.com/wiki/Robert_Evans

Donald Trump once boasted about buying the "greatest yacht in the world" from Adnan Khashoggi: https://www.youtube.com/watch?v=yuWMH5TD5bE




Deutsche Bank


In 2001, it was reported that Irene Marcos Araneta, daughter of the late dictator Ferdinand Marcos (he died before his trial was finished), tried to move her family's wealth - including at least $13.2 billion at the Union Bank of Switzerland (UBS) - into a newly opened account at Deutsche Bank: http://edition.cnn.com/2001/WORLD/asiapcf/southeast/03/22/Philippines.Marcos.loot/

Again the Deutsche Bank…
In 1997, Mayo Shattuck was made trustee of the Bronfman's Seagram Company, Ltd.
In 1997, Shattuck helped engineer the $1.7 billion merger of Alex. Brown and Sons and Bankers Trust. Two years later, the company was acquired by Deutsche Bank, and Shattuck served as head of Investment Banking and Private Banking and chairman of Deutsche Bank Alex. Brown.
After the 9/11 options fraud through Deutsche Bank Alex. Brown, Shattuck resigned on 12 September 2001: https://en.wikipedia.org/wiki/Mayo_A._Shattuck_III


---
RE: Bronfman, NXIVM, Epstein, Zionism and paedophilia - Firestarter - 07-01-2019



MEGA, Hollinger



Does MEGA stand for Make England Great Again?!?



MEGA


In 1998, the Wall Street Journal of Rupert Murdoch reported that in 1991 the Mega Group had been founded by some 20 Jewish billionaires, who met at the Manhattan apartment of hedge-fund manager Michael Steinhardt, including:
Edgar Bronfman, chairman of the World Jewish Congress (father of Sara and Clare Bronfman);
Charles Bronfman, Edgar's brother and top executive at Seagrams Corp.;
Leslie Wexler of Limited, Inc.;
Laurence Tisch, chairman of Loews Corp.;
Max Fisher, Detroit oil magnate and Republican Party powerhouse.

In 1982, Australian born Martin Indyk came to the US, after working for the Israeli Prime Minister. Indyk formed a research department for the notorious America-Israeli Public Affairs Committee (AIPAC). It took until 1987 before he was permitted to work in the US on a green card. Indyk became a US citizen in January 1993 — just 8 days before he was appointed to the National Security Council (NSC) of the Clinton Administration. Before that Indyk had been an "informal adviser" to President George H.W. Bush.
Martin Indyk later became US Ambassador to Israel…

In January 1997, the National Security Agency (NSA) intercepted a phone conversation between an Israeli official at the embassy in Washington, and Danny Yatom (head of the Israeli intelligence service Mossad). The official asked permission to "go to Mega" to obtain a copy of the confidential letter was sent by then-U.S. Secretary of State Warren Christopher to Palestinian Authority President Yasser Arafat.
Indyk should be a prime candidate for the Israeli spy "Mega" in the Clinton Administration: http://www.larouchepub.com/other/2001/2833mega_spy.html
(archived here: https://archive.is/2IODt)

Hollywood billionaire Steven Spielberg later became the most famous (?) member of Mega is.

Laurence Tisch: worked with convicted inside-trader Michael Milken, who used junk bonds, through which Tisch in 1986 took over the Colombia Broadcasting System (CBS): https://www.larouchepub.com/other/2001/2844mega_bios.html
(archived here: https://archive.is/M09yx)

According to one Israeli source, the Mega group was expanded to more than 50 American and Canadian super-rich Zionists, who meet secretly twice a year.
The dominant figures in Mega are cofounders Charles and Edgar Bronfman, Michael Steinhardt, and Max Fisher.

Steinhardt was one of Sen. Joseph Lieberman's biggest supporters.
Steinhardt has admitted that while in Israel, he met Marc Rich, to promote the Mega Group's favourite "charity", Birthright Israel, which is involved in projects with the Mikhail Chernoy Foundation. Of the 12 board members of Birthright Israel, at least 8 are members of the Mega Group.
Mikhail Chernoy was involved in the attempted takeover of the Russian Alfa Bank with Benya Stilitz. Chernoy had ties with the Mega-linked Russian oligarch (the late) Boris Berezovsky. Mikhail Chernoy's brother Lev was a prime suspect in the Swiss investigation into the Russian Mafia.

Leslie Wexner: is best known for the holding company he founded in 1963, The Limited, Inc., that owns firms like Intimate Brands, Victoria's Secret, and Bath & Body Works.
Wexner is also a board member of Conrad Black's Hollinger International. Lady of the Garter Margaret Thatcher was chairman of Hollinger's International Advisory Board, which also included Henry Kissinger, William F. Buckley, and Richard Perle.
Hollinger International, Inc. turned Israel's main English-language daily, the Jerusalem Post, into a mouthpiece for Sharon: http://www.informationclearinghouse.info/article1113.htm
(archived here: http://archive.is/kPC7K)

The biggest funder of Trump's campaign is also in business with the Bronfmans (philanthropy sounds so much better than organised crime)...

Sheldon Adelson has provided many millions to MEGA's favourite "charity" Birthright Israel.
Sheldon and his wife Miriam Adelson are on its board of directors with co-founders Charles R. Bronfman and Michael H. Steinhardt: https://birthrightisrael.foundation/board

I had already found out about the close ties of Sheldon Adelson to the influential "think tank" Foundation for Defense of Democracies (FDD): https://www.lawfulpath.com/forum/viewtopic.php?f=31&t=1156#p4358

FDD was the brainchild of New York Times journalist, Republican lobbyist Clifford May.
FDD's chief funders have been drawn almost entirely from wealthy American Jews, including Samuel and Edgar Bronfman, Sheldon Adelson, and Wall Street speculator Michael Steinhardt: http://www.slate.com/articles/news_and_politics/foreigners/2015/08/foundation_for_the_defense_of_democracies_inside_the_small_pro_israel_think.html?via=gdpr-consent




Hollinger


Nat Rothschild's and Bronfman associate, Peter Munk, once served on the board of Hollinger…

The Hollinger that is associated with Wexner, Kissinger, Margaret Thatcher and Conrad Black is certainly interesting...
Board members have included:
Chairman Conrad M. Black - was selected for the Canadian Privy Council, before Queen Elizabeth selected him for the (British) House of Lords Council (as Lord Black of Crossharbour); member of the 1001 Club.
Conrad Black was also a member of the CFR. Conrad and wife Barbara Black are also in "the little black book" of Jeffrey Epstein...

Baron Jacob Rothschild!
Sir Evelyn Rothschild, also director Telegraph Group!

Zbigniew Brzezinski - former US National Security Adviser, former chairman Trilaterial Commission
Richard Perle - US Assistant Secretary of Defense 1981-87.
Paul A. Volcker - chairman Federal Reserve System 1979-87; North American Chairman Trilateral Commission.
Richard Burt – him again…

A. Alfred Taubman – chairman Sotheby's.
Giovanni Agnelli - long-time Chairman Fiat; member of the 1001 Club.
Rupert N. Hambro - chairman Hambro &Co.

On 6 July 1998, Conrad Black addressed the annual meeting of the Centre for Policy Studies in London where he called for Britain to leave the European Union and instead join the transatlantic "super-NAFTA": https://larouchepub.com/eiw/public/1999/eirv26n17-19990423/eirv26n17-19990423_039-the_hollinger_corp_propaganda_em.pdf

Conrad Black's Hollinger was a genuine media empire: at its peak in 1999 the third largest in the world with revenues of more than $2 billion. It included the British Daily Telegraph (since 1985), Israel's Jerusalem Post, Canada's National Post, Australia's Sydney Morning Herald, and the US' Chicago Sun-Times.
After Black acquired a media company, he would first fire employees and cut operating costs.

In 2003, Herbert Denton, a Hollinger shareholder, looked at Hollinger International's books to discover that 95% of Hollinger's net income was going to Black, David Radler and a small group of executives. They sold parts of Hollinger to receive millions with the approval of Hollinger's board of directors. In one $2.3 billion deal with CanWest, Black and co privately made $53 million dollars.
In 2007, Conrad Black was charged with selecting insiders at Hollinger to hide his stealing, allegedly of more than $400 million. Richard Perle from 1998 to 2003 received $5.4 million from Hollinger International.

Black had Hollinger pay for: vacation on Bora Bora; $42,870 for birthday party for his wife; dinners with Henry Kissinger; $90,000 for restoration of his Rolls Royce; $2,463 handbags for his wife; $2,083 exercise equipment; $2,785 opera tickets; $24,950 summer drinks; and $3 million annually for private jet.
David Radler pleaded guilty to a single charge of mail fraud to divert more than $32 million from Hollinger. He got a 29-month jail term in exchange for testifying against Conrad Black.

Blacks' parties included Prince Andrew, cabinet ministers, former British Prime Ministers, Thatcher, Donald Trump, and "young, beautiful women": https://www.heritageinstitute.com/governance/black/background.htm
(archived here: http://archive.is/BQ9gK)

In 2003, Conrad Black asked his friend Donald Trump to speak in support of him at a meeting of Hollinger International shareholders.
In 2007, Trump was asked to testify in Black's defence.

Trump and Black (also) had a business relationship; Trump bought the Chicago Sun-Times building from Hollinger: https://www.cbc.ca/news/business/donald-trump-to-testify-on-conrad-black-s-behalf-report-1.631279

In December 2007, a federal judge in Chicago sentenced "Lord" Conrad Black to 6 ½ years in prison, for stealing $6.1 million with his inner circle.
He was also ordered to forfeit $6.1 million and fined $125,000: https://abcnews.go.com/Business/story?id=3981662&page=1

The 2000 birthday party for Black's wife, Barbara Amiel, had an interesting guest list that included:
Donald Trump;
Lynn Forester de Rothschild;
Henry Kissinger;
Richard Perle;

Ghislaine Maxwell;
Jeffrey Epstein: https://www.theguardian.com/media/2007/may/09/citynews.thedailytelegraph


---
RE: Bronfman, NXIVM, Epstein, Zionism and paedophilia - Firestarter - 07-03-2019



The Epstein and Ghislaine Maxwell child sex ring



Since August 2016, I've posted about Jeffrey Edward Epstein but found out that most people are more interested in looking for "pizzas" and "hotdogs" in Wikipedia mails...

Epstein has sexually abused large numbers of under-age girls and even had a stable of child prostitutes (as young as 12 years old) to serve his wealthy friends with similar sexual preferences. Epstein is a billionaire and (former) member of the Council on Foreign Relations and Trilateral Commission.
After a yearlong investigation that started in 2005 20 girls testified they were sexually abused between the ages of 14 and 17 by Jeffrey Epstein. Epstein served a total of 13 months in prison: he was out on "work release" up to 16 hours a day for 6 days a week, so only in for the nights.

Donald Trump is a very good friend of Jeffrey Epstein...
The underage Virginia Roberts had been "recruited" at Trump's Mar-a-Lago in Miami by Ghislaine Mawell, Epstein's girlfriend, who ran the paedophile sex ring with Jeffrey.

When Jeffrey Epstein during his trial in 2010 was asked if he had ever socialised with underage "females" with Donald Trump, he pleaded the fifth:
Quote:Q - Have you ever socialized with Donald Trump in the presence of females under the age of 18?
Epstein - Though I'd like to answer that question, at least today I'm going to have to assert my Fifth, Sixth, and 14th Amendment rights, sir.

In 2000, Prince Andrew arrived in Florida to meet his good friend Epstein on Trump's private plane. Epstein, Maxwell, Andrew and Trump were hanging out together that year at Mar-A-Lago.
See the photo of Prince Andrew, Roberts and Maxwell in London in 2001, when Roberts was only 17.



Trump only "cut ties" with Epstein a few weeks after Epstein pleaded guilty to paedophilia in September 2007: https://news.vice.com/article/the-salacious-ammo-even-donald-trump-wont-use-in-a-fight-against-hillary-clinton-bill-clinton
(archived here: http://archive.is/X4pyC)


"Katie Johnson" (not her real name) in federal lawsuits accused Donald Trump and his billionaire friend Jeffrey Epstein, of raping her when she was only 13 in New York City in 1994. "Katie" alleged also that the two men raped the 12-year old girl "Maria".
Katie's allegations have been confirmed by a witness...



Her attorney dropped the case.
"Maria" was abducted from Waterbury, Connecticut on 19 March 1993 when she was 11.
She ended up at "parties" at a midtown Manhattan townhouse owned by Epstein's billionaire friend Les Wexner where underage girls were allegedly sexually assaulted by Trump and Epstein: https://www.justice-integrity.org/1456-new-information-emerges-in-maria-story

According to Claude Taylor, "Maria" is not her legal name but she is alive and has given a camera interview to a major broadcast network. That network is holding the interview for "legal reasons".
In the interview she confirmed facts as laid out by "Katie" (and "Tiffany"). She was sexually assaulted by Donald Trump and her life and her family's life were threatened by Donald. This is subject of an ongoing criminal investigation. "Maria" remains in hiding: http://web.archive.org/web/20171223194410/https://ir.net/news/politics/126409/report-12-year-old-trump-rape-victim-maria-alive-talking/


Epstein and Maxwell were often socialising (and recruiting girls) at Trump's Mar-A-Lago (pictures of Trump and Epstein were completely blocked by internet "search" engines before the 2016 presidential election).
According to braindead Trump-fans Donald expelled Epstein from the Mar-a-Lago in 1999, after Epstein was caught trying to seduce an underage girl. See Donald, Melania, Jeff and Ghislaine Maxwell, Mar-a-Lago, 12 February 2000.




Unfortunately we can't ask the butler of Jeffrey Epstein, Alfredo Rodriguez, for more information who died in December 2014 of "mesothelioma" after he had been locked up in jail for trying to sell Epstein's "little black book" to the highest bidder (what a horrible offence...).
He was locked up for 18 months, longer than Epstein, and wasn't out on work release for 6 days per week: https://www.dailymail.co.uk/news/article-2897939/Houseman-cleaned-pedophile-Jeffrey-Epstein-s-sex-toys-feared-billionaire-make-disappear-takes-secrets-grave.html


In the spring of 1989, Robert Maxwell and his daughter Ghislaine hosted a party on his yacht in the presence of Donald Trump, former US senator John Tower (involved in Iran-Contra), and ex-navy secretary John Lehman.
See Donald showing his thumb, and Robert Maxwell on the far right: https://www.newspapers.com/clip/9383143/donald_trump_and_ghislaine_maxwell_on/




Some of the interesting names in the little black book of Jeffrey Epstein…

Donald Trump (several phone numbers); Ivana Trump; Ivanka Trump;
Evelyn de Rothschild; Jessica Rothschild (probably the daughter of Evelyn); Hannah Rothschild (probably the daughter of Jacob); Edouard de Rothschild (probably the son of Guy).
David Rockefeller; Peter Soros (nephew of George); Henry A. Kissinger; Rupert Murdoch;

White House; Alan Dershowitz; Ehud Barak; Tony Blair;
Duke of York (Prince Andrew); Duchess of York (Fergie);

Prince Bandar; Michel Prince of Yugoslavia; Princess Olga of Greece;
Peter Mandelson; John Paulson; David Koch: https://s3.amazonaws.com/s3.documentcloud.org/documents/1508273/jeffrey-epsteins-little-black-book-redacted.pdf


Andrew's big eared brother, Crown Prince Charles, was at the 2005 Florida wedding of Donald Trump with nude model Melania Knauss.
Hundreds of celebrities and celebrities and power brokers attended, including Bill and Hillary Clinton, Rudy Giuliani, Prince Albert of Monaco, Mayor of New York Bloomberg, Henry and Nancy Kissinger, Arnold Schwarzenegger, Harvey Weinstein and Abe Rosenthal: https://stylecaster.com/throwbackthursday-melania-donald-trumps-million-dollar-wedding/
(archived here: http://archive.is/XBaSd)

See Charles, Donald and Melania in 2005.




For anybody that prefers a video –

Bringing down Jeffrey Epstein


https://youtu.be/spkcvkgsoIg


---
RE: Bronfman, NXIVM, Epstein, Zionism and paedophilia - Firestarter - 07-05-2019



Child victim Virginia Roberts



Virginia Roberts, who was sexually abused in the child sex ring of Jeffrey Epstein starting when she was 15 years old (from 1999 to 2002), has testified that she also had sex with Zionist lawyer Alan Dershowitz on behalf of Epstein and that the FBI has caught her on tape.
Dershowitz was once introduced to Epstein by Trump's good friend Lynn Forester (these days "Lady" de Rothschild).

See Lynn Forester, Andrew Stein (who Lynn married), and Donald Trump.



Roberts claims to have been groomed by (daughter of British newspaper tycoon Robert Maxwell) Ghislaine Maxwell.

Epstein was also good friends with the family Clinton and has claimed that he co-founded the "philanthropic" Clinton Foundation, but after Epstein was convicted as a sex offender, the Clintons (like Trump) suddenly never knew him: http://web.archive.org/web/20170124021715/http://www.investmentwatchblog.com/billionaire-paedophile-jeffrey-epstein-created-clinton-foundation/

See Ghislaine Maxwell at the 2010 wedding of Chelsea Clinton to a Goldman Sachs banker (Ivanka Trump's brother-in-law, Josh Kushner, also worked at Goldman Sachs).




The following comes from an affidavit by Virginia Roberts that. She testified that she had many sexual encounters with Epstein, Ghislaine Maxwell and Alan Dershowitz. She also witnessed many sexual encounters with other underage girls and that they made child pornography. Roberts doesn't name all that were involved with Epstein.



Prince Andrew


Roberts describes 3 sexual encounters with Prince Andrew.

Quote:There was a lot of legal discussion about Andy and his ex-wife ("Fergie"). Then the discussion turned to me. Maxwell said "guess how old she is." Prince Andrew guessed 17. (…)
38. After the picture, Epstein and Maxwell kissed me and said to "have fun." They left Andy and me alone upstairs. We went to the bathroom and bedroom, which were just steps away from where the picture was taken. We engaged in sexual activities there. Afterwards, Andy left quickly with his security.
(…)
40. When I got back from my trip, Epstein paid me more than he had paid me to be with anyone else – approximately $15,000. That money was for what I had done and to keep my mouth shut about "working" with the Prince.
41. The second time I had sex with Prince Andrew was in Epstein's New York mansion in spring 2001. I was 17 at time. Epstein called me down to his office. When I got there, Epstein was there, along with Maxwell, Johanna Sjoberg, and Andy. I was very surprised to see him again. Epstein and Maxwell were making lewd jokes about "Randy Andy".
42. I had the impression that Andy had come there to see Epstein and to have sex me with. There was no other apparent purpose for Andy to be there.

43. I was told to go upstairs with Andy and to go to the room I thought of as the "dungeon" (the massage room, but it is really scary looking). I had sex with Andy there. I was only paid $400 from Epstein for servicing Andy that time.
44. The third time I had sex with Andy was in an orgy on Epstein's private island in the U.S. Virgin Islands. I was around 18 at the time. Epstein, Andy, approximately eight other young girls, and I had sex together. The other girls all seemed and appeared to be under the age of 18 and didn't really speak English. Epstein laughed about the fact they couldn't really communicate, saying that they are the "easiest" girls to get along with. My assumption was that Jean Luc Brunel got the girls from Eastern Europe (as he procured many young foreign girls for Epstein). They were young and European looking and sounding.



Jean Luc Brunel


Roberts also described the involvement of Jean Luc Brunel in the child sex ring of Epstein and that she had sex with Brunel many times.

Quote:47. I also had sexual intercourse with Jean Luc Brunel many times when I was 16 through 19 years old. He was another of Epstein's powerful friends who had many contacts with young girls throughout the world. In fact, his only similarity with Epstein and the only link to their friendship appeared to be that Brunel could get dozens of underage girls and feed Epstein's (and Maxwell's) strong appetite for sex with minors.
48. Brunel ran some kind of modeling agency and appeared to have an arrangement with the U.S. Government where he could get passports or other travel documents for young girls. He would then bring these young girls (girls ranging in age from 12 to 24) to the United States for sexual purposes and farm them out to his friends, including Epstein.
(…)
51. Jeffrey Epstein has told me that he has slept with over 1,000 of Brunel's girls, and everything that I have seen confirms this claim.
http://images.politico.com/global/2015/02/03/edwardsdershaff1.pdf


Jean Luc Brunel leads back to the movies…
Brunel ran a "model agency" - MC2 - which included many underage girls and was founded in 2005 with $1 million from Epstein. Brunel reportedly recruited underage girls for the sex ring of Epstein. Both Brunel and his partner, Jeffrey Fuller, denied their involvement with Epstein - but Brunel did visit Epstein in jail repeatedly.
Brunel specialised in "recruiting" young girls from South America, Europe, and East Europe. Brunel paid money to the parents to bring them to the USA. Brunel got US passports for girls as young as 12 — then passed the minors off to perverts like Epstein.

Jean Luc Brunel claims he launched the careers of models such as: Sharon Stone, Christy Turlington, Jerry Hall, Milla Jovovich, Sessilee Lopez , Candace Swanepoel, Marina Lynchuk, Natalia Chabanenko, Elisa Sednaoui (Tel Aviv), Ginta Lapina (Latvia), and Liu Dan (China).
Diane Sawyer investigated Jean Luc Brunel in 1988 for "60 Minutes". The program interviewed nearly two dozen models who had been sexually assaulted by Brunel and/or his fellow agent, Claude Haddad. CBS spoke 5 models that had been drugged and raped by Brunel and/or his friends. Producer Craig Pyes said that "

Hundreds of girls were not only harassed, but molested

": http://jezebel.com/5603638/meet-the-modeling-agent-who-trafficked-underage-girls-for-sex

A former male model - Pedro Gaspar – died in New York in 2012 under suspicious circumstances (official cause of death: cocaine and alcohol). Who knows what Gaspar had seen as he had an apartment directly above the office of MC2 and also mingled with lots of models: http://www.thedailybeast.com/articles/2015/02/13/the-dead-model-and-the-dirty-billionaire.html


While most celebrities did their best to not be seen with the disgraced Epstein, Ghislaine Maxwell continued her jet-set life.
See Ghislaine Maxwell with media mogul - friend of Jacob Rothschild and Donald Trump's daughter Ivanka and son-in-law Jared Kushner - Rupert Murdoch at the Fifth Important Dinner for Women hosted by Queen Rania Al Abdullah, Wendi Murdoch (Rupert's ex-wife) and Indra Nooyi, New York, September 2010.

---
RE: Bronfman, NXIVM, Epstein, Zionism and paedophilia - Firestarter - 07-07-2019



Court documents unsealed



On Wednesday, a federal appeals court ordered the release of court documents from the defamation lawsuit of Virginia Roberts Giuffre against Virginia Maxwell (who ran the child sex ring with Jeffrey Epstein) that was filed in September 2015, and settled (reportedly for millions) in May 2017, just before the start of the trial.
The appellate court ordered the immediate disclosure of the summary judgment record and also to disclose the 167 documents filed in the case (these have to be reviewed before they are released to the public).

See the conclusion from the court's decision:
Quote:To summarize, we hold as follows:
(1) Materials submitted in connection with a motion for summary judgment are subject to a strong presumption of public access.
(2) The summary judgment record at issue will be unsealed upon issuance of our mandate, subject to minimal redactions.
(3) Materials submitted in connection with, and relevant to, discovery motions, motions in limine, and other non‐dispositive motions are subject to a lesser—but still substantial— presumption of public access.
(4) The District Court is directed to review the remaining sealed materials individually and unseal those materials as appropriate.
(5) District courts should exercise the full range of their substantial powers to ensure their files do not become vehicles for defamation.

For the foregoing reasons, we VACATE the orders of the District Court entered on November 2, 2016, May 3, 2017, and August 27, 2018, ORDER the unsealing of the summary judgment record as described herein, and REMAND the cause to the District Court for particularized review of the remaining materials.
In undertaking this task, the District Court may be well‐served by ordering the parties to submit to the Court unredacted, electronic copies of the remaining sealed materials, as well as specific, proposed redactions. The District Court may also order the parties to identify and notify additional parties whose privacy interests would likely be implicated by disclosure of these materials.
In the interests of judicial economy, any future appeal in this matter shall be referred to this panel.
https://www.thedailybeast.com/jeffrey-epstein-court-orders-release-of-sealed-docs-about-alleged-sex-ring


In a strange twist, on Saturday Jeffrey Epstein was suddenly arrested and charged with sex trafficking dozens of minors in New York and Florida between 2002 and 2005. He could potentially be locked up for a maximum of 45 years.
On Monday, Epstein will appear in court in New York.

Attorney for Epstein victims Virginia Roberts Giuffre and Sarah Ransome, David Boies, said:
Quote:It's been a long time coming—it's been too long coming. It is an important step towards getting justice for the many victims of Mr. Epstein's sex trafficking enterprise.
We hope that prosecutors will not stop with Mr. Epstein because there were many other people who participated with him and made the sex trafficking possible.

Michelle Licata, who was molested by Epstein when she was 16 years old responded to this news: "

Oh my God. Finally, finally, finally! Justice!

"

Ghislaine Maxwell, Fergie's friend, who ran the paedophile ring with Epstein, still hasn't been charged: https://www.miamiherald.com/news/state/florida/article232374872.html


---
RE: Bronfman, NXIVM, Epstein, Zionism and paedophilia - Firestarter - 07-09-2019


(07-07-2019, 02:48 PM)

Firestarter Wrote: In a strange twist, on Saturday Jeffrey Epstein was suddenly arrested and charged with sex trafficking dozens of minors in New York and Florida between 2002 and 2005. He could potentially be locked up for a maximum of 45 years.
Here's the thing I don't understand about this charade. Because of the 2007 non-prosecution agreement, Jeffrey Epstein is immune from prosecution for what he did from 2002 to 2005 (and his co-conspirators, including Ghislaine Maxwell and Alan Dershowitz)...
Trump's Secretary of Labour Alexander Acosta violated federal law, so should be prosecuted; but I guess this won't happen.


Bill Clinton has claimed that he flew on Jeffrey Epstein's private plane 4 times in total (instead of the 26 reported by the "reputable" Fox News).
Bill Clinton has also denied that he ever was on Epstein's private island in the Virgin Island (which was claimed by Virginia Roberts).



In September 2002, Clinton flew with Epstein on a week-long tour through Africa, visiting South Africa, Nigeria, Ghana, Rwanda, and Mozambique.

Jeffrey Epstein pleaded not guilty on Monday to charges of sex trafficking and paying girls as young as 14 for sex acts.
Epstein will remain in jail until at least 15 July, when a bail hearing is scheduled: https://www.dailymail.co.uk/news/article-7226525/Bill-Clinton-insists-no-idea-Jeffrey-Epsteins-terrible-crimes.html


Here are 839 pages on the Jeffrey Epstein deposition (most of it worthless). A lot of suspects, witnesses, including Epstein, refusing to answer questions over and over again (pleading the fifth).
On page 73, 74, Mark Epstein (Jeffrey's brother) details flying on Jeffrey's private plane with Jeffrey's good friend Donald Trump:

On pages 767-791, are the testimonies of victims – 12 to 17 years old when molested: https://www.documentcloud.org/documents/1508967-deposition-excerpts.html


The following pages, from the probable cause affidavit of the Palm Beach police, show that Epstein had sexual intercourse with and inserted vibrators into underage girls as young as 14.
If I understand correctly, the parents of the following 14-year-old girl started the investigation.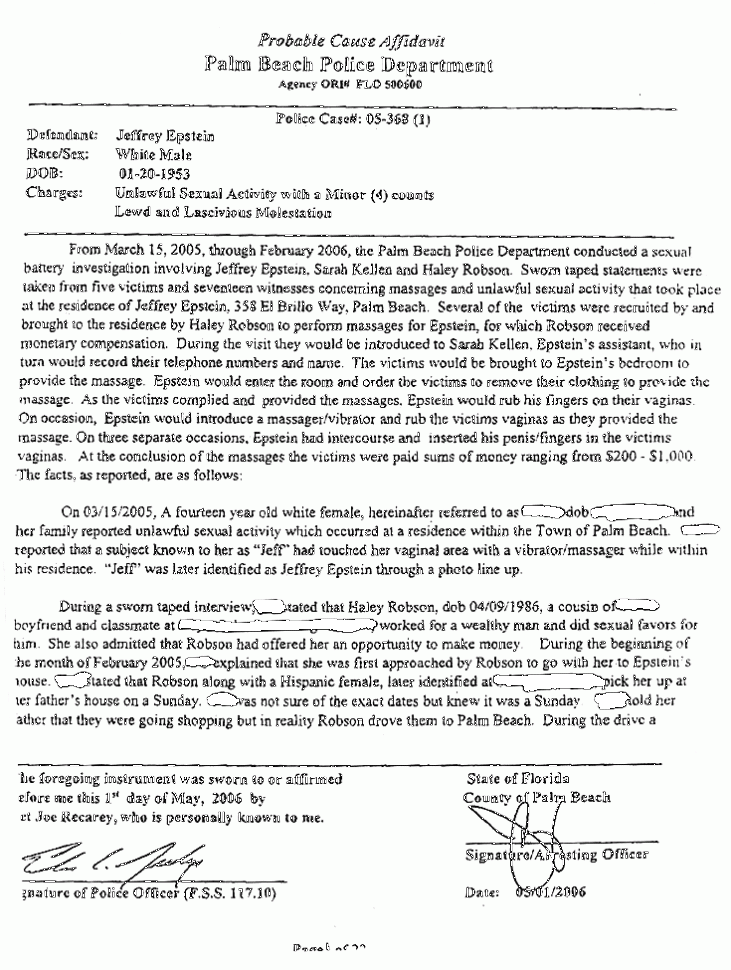 Here are the statements of another abused girl.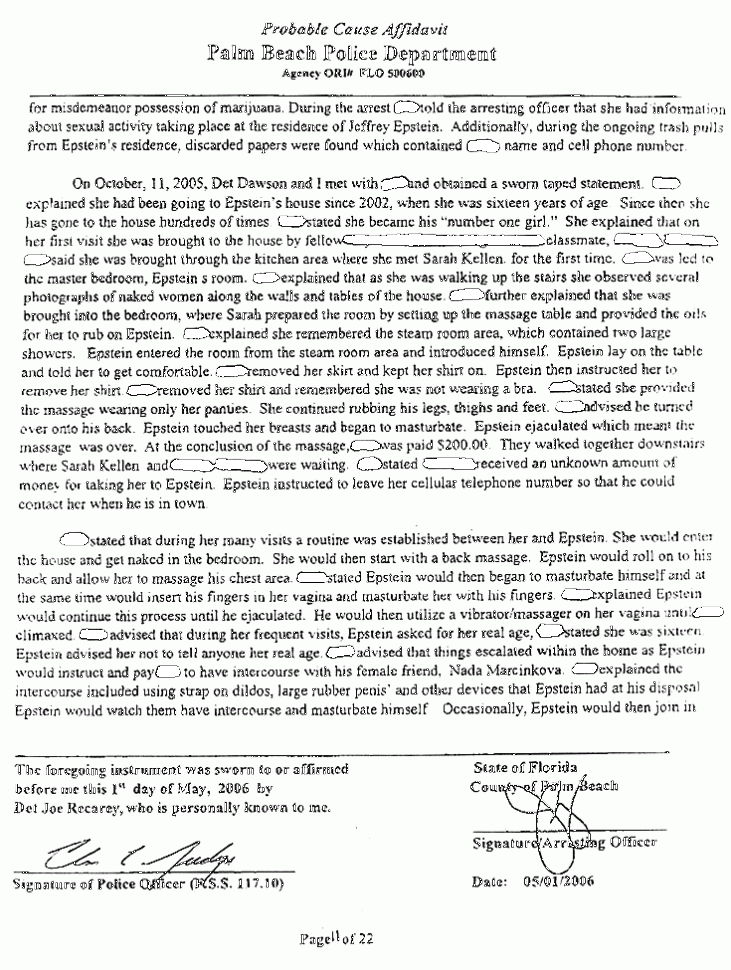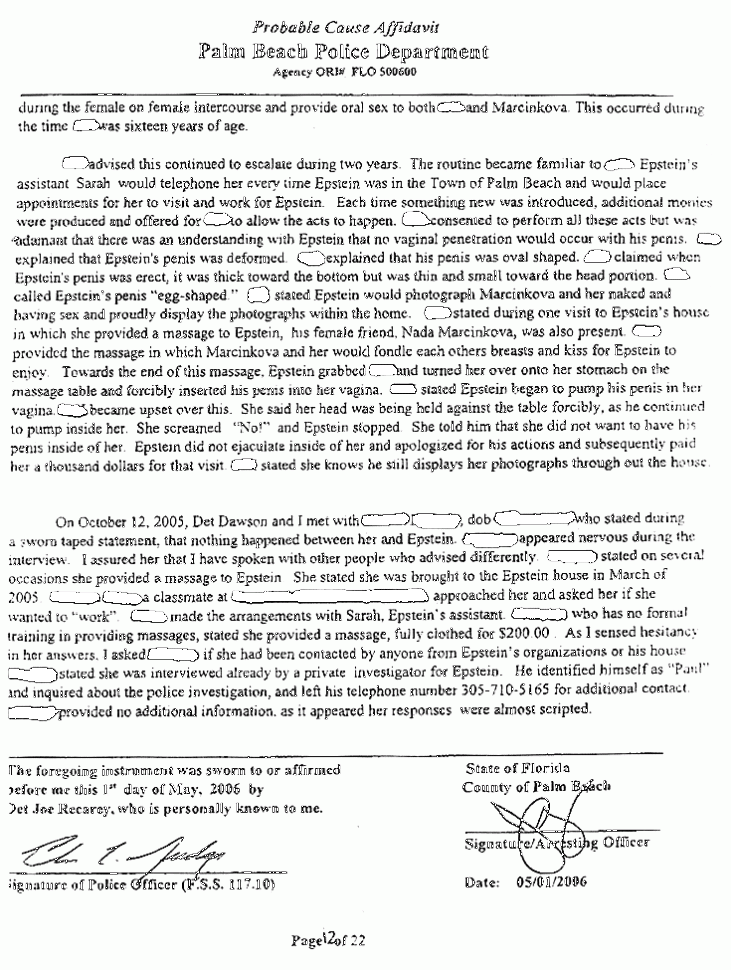 With the conclusion.



You can read the full probable cause affidavit by changing "2.gif" in the following URL to "3.gif" until "23.gif": http://thesmokinggun.com/sites/default/files/imagecache/750x970/documents/0630081epstein2.gif


Epstein's houseman Juan Alessi has testified that Trump would regularly come for dinner at Epstein's home — but that Trump "never sat at the table" but instead ate "with me in the kitchen": https://www.buzzfeednews.com/article/alexcampbell/court-papers-trump-ate-at-jeffrey-epsteins-house

At Jeffrey Epstein's house the walls where filled with nude women, including underage girls!

I couldn't find Alessi's 2009 sworn deposition (the following link gives an "access forbidden" message https://www.documentcloud.org/documents/2601361-juan-alessi-depo-voi-i.html#document/p19/a263755)...


Ghislaine Maxwell is still good friends with Prince Andrew and his ex-wife Sarah Ferguson (Fergie). See Maxwell and Fergie in New York City on 8 December 2003.



See Prince "Randy Andy" Andrew with his good friend Jeffrey Epstein after he was released from jail, strolling through New York's Central Park in 2011.






Fox News censors Epstein protester


In between the Trump supporters at the rally in Minnesota, one brave man held up one of the infamous photos showing Donald Trump with his pedo-buddy Jeffrey Epstein.



The "reputable" Fox News thought that this is so embarrassing that they edited this incident out of the footage. Instead they show Trump ridiculing the protester (over his hair!) while the crowd chants "

USA, USA, USA

": http://web.archive.org/web/20190322144125/https://fitzinfo.wordpress.com/2018/06/20/trump-evicts-man-from-rally-after-holding-up-photo-of-trump-with-jeffrey-epstein/




Trump's Secretary of Labor - Alexander Acosta


Jeffrey Epstein was convicted to a whopping 13 months in jail, for a total of 8 hours per day. Most accounts claim that every Sunday Epstein was locked up the whole day... This means that Epstein was locked up for a total of 56 whole days.
Epstein arranged underage girls for Prince Andrew, and Donald Trump provided his private jet for Prince Andrew to meet with his good friend Epstein.

Most people thought Donald Trump couldn't do it. But against all odds he picked an even bigger scumbag than Andrew Puzder for Secretary of Labor - Alexander Acosta.
In 2008 no other than Alexander Acosta as US Attorney made the sweet deal with Jeffrey Epstein, which violated federal law. Here is the deal in all glory: http://alt.coxnewsweb.com/palmbeachpost/news/S60BW-109091810400.pdf

Not only did Epstein receive a very mild sentence, but it also immunised several of the paedophiles that used the "services" of Epstein's sex ring.
In 2011, Acosta wrote a letter in which he defended this decision:
Quote:Our judgment in this case, based on the evidence that was known at the time, was that it was better to have a billionaire serve time in jail, register as a sex offender and pay his victims restitution than risk a trial with a reduced likelihood of success. I supported that judgment then, and based on the state of the law as it then stood and the evidence known at the time, I would support that judgment again.
In the 2011 letter, Acosta agreed that the work release seemed "highly unusual treatment" that "undermined the purpose of a jail sentence".

At his senate confirmation hearing, Alexander Acosta was supposedly "grilled" by the Democrooks; where he described the secret non-prosecution deal with Jeffrey Epstein as "a good thing".
According to Acosta, the state had been outmatched by Epstein, whose attorneys launched "a year-long assault" on prosecutors "more aggressive" than any Acosta had previously encountered. Including following witnesses and discrediting victims by offering their social media profiles: http://www.miamiherald.com/news/politics-government/article136073328.html

Acosta's office didn't file a pair of obstruction of justice charges against Epstein. The first for harassing 2 of his personal assistants to thwart FBI agents from serving investigation subpoenas. The second for dissuading a female victim from talking with agents.
But of course for billionaire pervert Epstein and his friends the laws do not apply.

Any idea what would happen if some small time drug dealer would harass witnesses or law enforcement agents?
Kent Frank, 50, was sentenced to 40 years in prison. Alex Acosta declared in a news release that society "cannot permit such individuals to seek sanctuary in our community (…)
We will prosecute sexual abuse of children aggressively, both when the targets are children in our community and when the defendants travel to target children abroad".
Kent Frank 40 years, Jeffrey Epstein 56 days…

Acosta was head of the civil rights division of the Department of Justice during the Bush administration. Between 2003 and 2005, the Department of Justice Inspector General let Bradley Schlozman do the hiring. Under Acosta's watch, Schlozman illegally purged "liberal" attorneys in favour of hiring more conservative, "real Americans" (Schlozman's words).
Acosta agreed this "

conduct should have never happened, I deeply regret it

": http://www.thedailybeast.com/articles/2017/03/22/trump-nominee-lax-deal-for-billionaire-pedo-jeffrey-epstein-was-a-good-thing.html


---
RE: Bronfman, NXIVM, Epstein, Zionism and paedophilia - Firestarter - 07-11-2019



Epstein, Trump, Vanity Fair, Hoffenberg, SCL






"Katie Johnson", who claims that she was raped by Donald Trump in 1994

, when she was only 13, doesn't get much attention in the latest series of publications (even reaching the Dutch mainstream media!) on Jeffrey Epstein (and appears to have disappeared).
EDIT - Vimeo.com and Wayback machine deleted the video( https://vimeo.com/176181706 http://web.archive.org/web/20180125013701/https://vimeo.com/176181706)

In the following 29 minute video, starting at 21:30 she tells about the rape - Katie Johnson's video on Youtube (for how long?)...
https://youtu.be/rbFJWo3gdRI

Here is a collection of court documents of "Katie Johnson" vs. Trump and Epstein: http://thememoryhole2.org/blog/doe-v-trump

This includes a description of the 4 occasions that the 13-year-old "Katie" engaged in sexual activities with Trump: http://thememoryhole2.org/s/4-Complaint-corrected-zahs.pdf

Here's the testimony by "Tiffany Doe", who testified that she witnessed all 4 sexual encounters between "Katie" and Donald Trump: http://thememoryhole2.org/s/4-2-Tiffany-Doe-Declaration.pdf


The following is a long story on Jeffrey Epstein in 3 parts, with some additional information at some more links.
It claims that thousands of pages of court documents were reviewed (which sounds like more than it really is), but there are no links to any of these documents.
https://www.miamiherald.com/news/local/article220097825.html
https://www.miamiherald.com/news/local/article214210674.html
https://www.miamiherald.com/news/local/article219494920.html
https://www.miamiherald.com/news/local/article221404845.html


One of the best-known stories about Jeffrey Epstein, years before he pleaded guilty in the sweetheart deal in which Alex Acosta was involved, is the 2003 Vanity Fair article "

The Talented Mr. Epstein

", written by Vicky Ward.
I don´t think that it helps her credibility that she waited 16 years, but now

Ward claims that at the time she wanted to report on Epstein molesting 2 young sisters

(one of them underage when it happened), who had spoken on the record. This was prevented by the editor of Vanity Fair - Graydon Carter.


Quote:AMY GOODMAN: Can you describe what happened to you when you wrote this piece? You spoke to Jeffrey Epstein.
VICKY WARD: Oh, multiple times, multiple times. He wheeled out, you know, all these important bankers and academics and financiers to talk to me. And he would call me all the time, but he would threaten me. He would talk, and then he would say, "You know, Vicky, if I don't like this piece, you know, something is going to happen to your unborn children." You know, and that way, he would sort of say it, you know, lightly, but I went to the magazine's general counsel at the time.
(...)
VICKY WARD: Yes. And two sisters who—
AMY GOODMAN: Alleged.
VICKY WARD: —who alleged that Jeffrey Epstein had assaulted each of them separately, on separate occasions, but one of them at the time was underage. And it was a classic story of two young women who did not come from a particularly rich family. The younger one wanted to go to an Ivy League school. Jeffrey offered to pay for this, but only if he got to know this young woman better. And he was very plausible. He had his girlfriend, Ghislaine Maxwell, who—very charming, well educated, British sort of socialite around New York—
(...)
VICKY WARD: Yes, he came in. I had had no—I was not told about this. He came in. He had a private meeting with the magazine's then-editor, Graydon Carter, after which I was informed that Graydon believed Jeffrey Epstein. I was told that Jeffrey Epstein had told Graydon that he was, quote-unquote, "sensitive about the women." And so they would be pulled from the story. So it would now be a business story. And—
AMY GOODMAN: About what? A business story.
VICKY WARD: Well, it was a business story that explained that Jeffrey Epstein was not who he claimed to be in his professional life. But the very powerful, awful stories of what happened to these women got taken out.
https://www.democracynow.org/2019/7/8/jeffrey_epstein_a_billionaire_friend_of
(archived here: http://archive.is/OeaS0)




Trump's Attorney General William Barr didn't recuse himself from the Jeffrey Epstein case

, claiming that he considered this because he once worked for a law firm that represented Epstein.
There's a more interesting link from William Barr's father, Donald Barr, to Epstein.

In 1973, Donald Barr as headmaster of Manhattan's Dalton School, hired Epstein as a calculus and physics teacher even though he didn't even have a college degree and was only 20 years of age.

How did Epstein make Bear Stearns' chairman, Alan "Ace" Greenberg, whose son attended the Dalton School, make him hire him as an options trader?
This is what got Epstein started in the world of high finance, reportedly becoming a billionaire in the process (this is denied by some media outlets): https://hillreporter.com/the-ties-that-bind-jeffrey-epstein-william-barr-donald-trump-34107


The following is one of those rare stories with so much information that I have difficulties getting the whole picture.

In 1981, Jeffrey Epstein left Bear Stearns in the middle of insider trading accusations involving a tender offer placed by Seagram Company Ltd. (owned by none other than the NXIVM-affiliated Edgar Bronfman Sr.) for St. Joe Minerals Corp.
Epstein reportedly became an informer to the investigation that got several Italian and Swiss investors sentenced for insider trading, including Italian financier Giuseppe Tome.



In 1987, Epstein was hired by Steven Jude Hoffenberg

; Epstein's first assignments included bids to take over Pan American World Airways in 1987 and Emery Air Freight Corp in 1988.
Hoffenberg was a tenant in the Trump Tower.

In 1994, Hoffenberg was arrested on charges of securities fraud. In 1995, Hoffenberg pleaded guilty to one of the largest Ponzi schemes in history through Towers Financial Corporation to defraud investors of more than $450 million.
Hoffenberg paid a $60 million settlement to the SEC, a $1 million fine, and spent 18 years in prison.

Epstein wasn´t accused (like in the Bear Stearns insider trading case).

In February 2016, WHAM Inc. (of Hoffenberg and Theodore Fotsis) notes:
Quote:it is contemplated that the Financial Trust Company (...) and Jeffrey Epstein (...) shall provide a minimum of one billion (...) dollars in assets to the Company.


It is not clear how Fotsis and Hoffenberg developed the plan for WHAM Inc. to acquire Hoffenberg's businesses, get $1 billion from Epstein, or launch the Trump Super PAC in June.

In May 2016, Hoffenberg filed a lawsuit against Jeffrey Epstein accusing him of helping Hoffenberg defraud investors.
The lawsuit was later withdrawn with prejudice.

In June 2016, Steven Hoffenberg launched the "Get Our Jobs Back Inc." Super PAC to get Donald Trump elected.
That same month the Super PAC noted a $50,000,000 contribution from Statware, Inc. for Digital Media Marketing, Revenue Sharing, on behalf of "Trump J. Donald". It is not clear how Statware´s CEO Richard LePoutre met Steven Hoffenberg or why he made a $50 million in-kind contribution.
The Super PAC closed on 8 November 2016.

Also in June 2016, WHAM, Inc. noted two contracts "

for performance based consulting services with third‐parties

" with future revenue of $113,000,000.
None of WHAM Inc.'s financial reports after June 2016 referred to this 113 million dollar.



In April 2016, WHAM Inc. used a new corporate website whaminc.us. This domain was hosted at the French company OVH SAS. In early 2017, OVH SAS was reported as being involved in hacking by the Russian state-sponsored Fancy Bear.
By early 2018, it appears that Theodore Fotsis had no remaining connection to WHAM Inc.
The WHAM Inc. name changed several times (to BERTIH Holdings and then to Syntrol).

An interesting change came in January 2018, when Pavel Birjukovskis of Latvia took ownership of the whaminc.us domain and hosted by the ITL company since. ITL, based in Ukraine, has been prominent in the Trump-Russia story and was reportedly the host for the Blacktivist.info website that also leased servers to Greenfloid LLC, a Florida registered company. Greenfloid LLC ran the sites blackmattersus.com and DoNotShoot.Us. In 2017, these were reported as troll sites.
In September 2016, ITL also hosted Whoiswhos.me — controlled and used by the Russian Internet Research Agency that hosted malware.
More recently, ITL was linked to the VPNFilter hacking campaign, which was again linked to the Russian state hacking group Fancy Bear.

In another one of those strange coincidences, the late

Robert Maxwell (father of Ghislaine Maxwell) has been closely affiliated with Robert Fraser & Partners LLP

.
None other than Cambridge Analytica CEO Alexander Nix once worked for Robert Fraser & Partners.
In 2003, Robert Fraser & Partners was incorporated by John Michael Bottomley, who from 2005 to 2014 served as a director for the SCL Group (Cambridge Analytica's parent company): https://medium.com/@wsiegelman/plaintiffs-file-new-complaint-against-registered-sex-offender-jeffrey-epstein-for-losses-in-ba734847ddc
(archived here: http://archive.is/7Pkr4)


For more information on

the British Royal family-controlled SCL Group (Cambridge Analytica's parent company)

– that orchestrated Brexit and got Donald Trump crowned president: https://www.lawfulpath.com/forum/viewtopic.php?f=27&p=5932#p5753


---
RE: Bronfman, NXIVM, Epstein, Zionism and paedophilia - Firestarter - 07-13-2019



Epstein, Acosta, Dershowitz



According to federal judge Kenneth A. Marra, former Miami U.S. Attorney Alex Acosta, now Secretary of Labour, broke the law when he concealed a plea agreement from more than 30 underage victims who had been sexually abused by the buddy of Trump, Clinton and Prince Andrew, Jeffrey Epstein.

Marra, in a 33-page opinion, said prosecutors not only violated the Crime Victims' Rights Act by not informing the victims, but also misled the girls into believing that the FBI's sex trafficking case against Epstein was still ongoing. When prosecutors had secretly already closed it after sealing the plea bargain from the public.
For no good reason whatsoever Marra didn't overturn Epstein's plea deal, or issue an order resolving the case. He instead gave federal prosecutors 15 days to come up with a settlement between Epstein and the attorneys of his victims.

Attorney Brad Edwards, who represents Courtney Wild said it's ridiculous it took 11 years to litigate and blamed federal prosecutors for needlessly dragging it out when they could have found a solution way back in 2008: https://amp.miamiherald.com/news/state/florida/article226577419.html


While I haven't seen any new information since Alexander Acosta became Secretary of Labor, he has resigned?!?



Friday, Acosta announced his resignation standing next to President Donald Trump at the White House lawn over the "sweetheart deal" with the well-connected paedophile Jeffrey Epstein that also got the other child molesters in the sex ring off the hook: https://www.bbc.com/news/world-us-canada-48967419


Jeffrey Epstein was the protege of Leslie Wexner, who was/is also in Epstein's little black book. By most accounts, Jeffrey Epstein was made by Leslie Wexner, who gave him tens of millions of dollars and his house.

In 2003, Trump dined at Epstein's Upper East Side home, with a group of 30 people that included Google co-founder Sergey Brin, Les Wexner, Peter Mandelson, and Bill Clinton aide Doug Band: http://nymag.com/nymetro/news/features/n_8672/index2.html


See Nat Rothschild, Nefer Suvio, Nick Rhodes, Ghislaine Maxwell in London, July 2013.




Virginia Roberts Giuffre filed a defamation lawsuit against Jeffrey Epstein's friend, lawyer and co-conspirator Alan Dershowitz, with some affidavits for evidence.

Dershowitz has denied that he ever saw underage girls when he visited Epstein's various homes in Palm Beach, New Mexico and New York. But Maria Farmer saw Dershowitz at the NY mansion going upstairs when there were girls younger than 18 present upstairs.

Epstein´s butler Alfredo Rodriguez has also said that he saw Dershowitz in the presence of young girls at Epstein's waterfront mansion. Rodriguez was sentenced to a longer prison sentence than Epstein after he was prosecuted by the FBI for "obstructing justice" for trying to sell Epstein's "little black book'' to the press. As he died in prison this was arguably a "life sentence"...

Sarah Ransome was introduced to Epstein when she was 22 years old and living in New York. She spent time at Epstein's mansion and was "lent out'' to his friends for sex, including Dershowitz: https://www.miamiherald.com/news/nation-world/article229277874.html


Here´s the 16 April court paper; see some interesting excerpts:
Quote:56. Both to conceal Dershowitz's relationship with Epstein, and to discredit Roberts, Dershowitz has repeatedly asserted that he was only at Epstein's residence once in Palm Beach, and that was with his family. However, Juan Alessi, a long time Epstein household employee, has confirmed that Dershowitz visited Epstein "pretty often. I would say at least four or five times a year" and that he would "typically" stay two or three days. Similarly, Alfredo Rodriguez who worked for Epstein approximately only six months confirmed that during that six months period Dershowitz visited Epstein twice.
(...)
59. Ms. Farmer asserts that "Alan Dershowitz was an individual who came to visit Epstein at his New York mansion a number of times when I was working for Epstein. Dershowitz was very comfortable at the home and would come in and walk upstairs. On a number of occasions I witnessed Dershowitz at the NY mansion going upstairs at the same time there were young girls under the age of 18 who were present upstairs in the house" (Exhibit 12, ¶4).
(...)
80. Dershowitz also lied to attempt to deflect Sarah Ransome's revelations about him.Ms. Ransome revealed that during the time she was a victim of Epstein's sex trafficking, Epstein's arranged for his lawyer, Dershowitz, to also represent Ms. Ransome. Ms. Ransome also described how, during the time Dershowitz was her lawyer, Epstein lent her out to Dershowitz for sex. (Exhibit 14).

81. Dershowitz asserted that he never had sex with Ms. Ransome, that he never represented Ms. Ransome, that he did not even know Ms. Ransome, and that Ms. Ransome's statements about him were fabricated by Ms. Roberts' lawyer in retaliation for a bar complaint that Dershowitz had filed against that lawyer (Exhibit 16).
https://www.scribd.com/document/406509138/


Virginia Roberts has earlier likewise sued Ghislaine Maxwell for slander. The case was reportedly settled for millions, with the court documents sealed.
In a clear publicity stunt, Alan Dershowitz claims that he wants to have the court documents on Jeffrey Epstein released to the public: https://www.miamiherald.com/news/state/florida/article226922729.html


The affidavit by Maria Farmer is the most interesting "new" evidence. Farmer frequently saw "school-age girls'' come into Epstein's mansion and go upstairs.
Farmer was sexually assaulted, as an adult, by Epstein and Maxwell at Leslie Wexner´s estate. When she tried to leave, Wexner's security staff refused to let her go.
Farmer reported the assault to New York police and the FBI in 1996 that refused to press charges. Afterwards she was repeatedly threatened by Epstein and Maxwell.

Epstein also took her younger sister, then 15, for sexual encounters with himself and Ghislaine Maxwell. Farmer only learned later what had happened to her sister.
He then flew the 15-year-old to his ranch in New Mexico, promising her mother that he would help with her education and later to Thailand to study.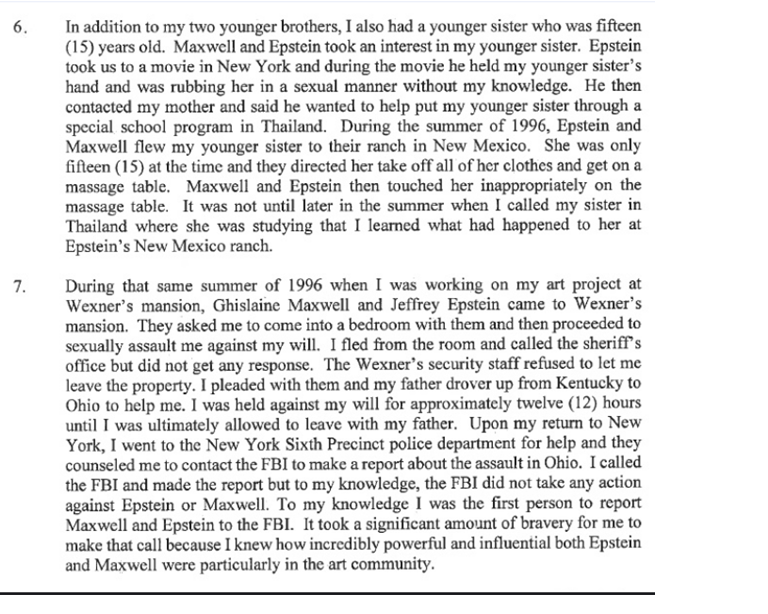 Here's the full affidavit by Maria Farmer, 12 april 2019: https://www.scribd.com/document/406613394/Affidavit-of-Maria-Farmer


Here's the affidavit by Sarah Ransome that doesn't name child abuse, but does include sex with Alan Dershowitz, Jeffrey Epstein and Ghislaine Maxwell, 8 April 2019: https://www.scribd.com/document/406615520/Affidavit-of-Sarah-Ransome

Jen-Lisa Jones was molested by Epstein when she was only 14.
Wild was also 14 years old when she met Epstein: https://www.vox.com/2018/12/3/18116351/jeffrey-epstein-trump-clinton-labor-secretary-acosta

Michelle Licata was 16 when Epstein sexually assaulted her: https://www.newsweek.com/jeffrey-epstein-alexander-acosta-trump-sex-trafficking-underage-minor-1339974


Here's another victim of Epstein (with dollar signs in her eyes!) that recently told how Epstein raped her, when she was only 15 years old.
https://www.youtube.com/watch?v=pNCQeQuV6O0


---
RE: Bronfman, NXIVM, Epstein, Zionism and paedophilia - Firestarter - 07-15-2019



Epstein, Berman, Comey, Andrew, Bannon, Fanjul



The elite, including Donald Trump and Bill Clinton, can always count on crooked lawyers to cover-up their many scandals...

The lead prosecutor of Jeffrey Epstein is Geoffrey Berman.
From 2006-2017, Berman was a law partner, with Trump's lawyer Rudy Giuliani, at Greenberg Traurig.

Berman worked for the Trump transition.
In April 2018, the office of Berman issued a search warrant for Michael Cohen, former lawyer of Donald Trump.

In January 2019, Berman charged Natalya Veselnitskaya, the Russian lawyer that was in the infamous meeting with Trump's team about - providing damaging information, adoption of Russian children, Bill Bowder and/or the money laundering by the Russian Prevezon Holdings: https://en.wikipedia.org/wiki/Geoffrey_Berman

Assisting Berman, is none other than Maurene Comey – daughter of former FBI Director James Comey, who was fired by Trump in 2017.
James Comey was a U.S. attorney for the Southern District of New York (in the period that Epstein was molesting girls in New York) before President George W. Bush selected him as deputy attorney general: https://www.washingtonexaminer.com/news/comeys-daughter-named-to-epstein-prosecution-team


I guess that the prosecution team "forgot" all about the rest of the paedophiles, including Ghislaine Maxwell, who hasn´t spent a single day in prison even though she ran the sex ring with Epstein and sexually abused (groomed) underage girls.

According to the following story, Ghislaine Maxwell also "procured" young women in London for Epstein´s good friend - Prince Andrew.

One young woman, who didn´t engage in sexual activities, described her dinner with Andrew and Maxwell:

Quote: My car drove in the front gates of Buckingham Palace, stopped round the back and I was escorted up to his apartment.
Ghislaine was there, and it was clear immediately that I had been brought to the dinner as a sex object. Andrew sat next to me on the sofa and kept reaching over to hold my hand.
http://archive.is/iVSOL


And in one of those strange coincidences, in August 2018, the SCL Group's spin doctor Steve Bannon had a secret meeting with Jeffrey Epstein at his Upper East Side mansion in New York: https://pagesix.com/2018/08/11/steve-bannon-trying-to-get-on-disgraced-jeffrey-epsteins-good-side/


Sugar billionaire José Francisco "Pepe" Fanjul was also a good friend of Jeffrey Epstein.
See Jeffrey Epstein and Pepe Fanjul, 28 September 2005, New York.



Pepe and his brother Alfonso Fanjul are also close personal friends of long-time Rothschild banker, the current US Commerce Secretary Wilbur Ross.
The Florida based Fanjul brothers profitted handsomely from Ross´s sugar trade deal: https://www.marketwatch.com/story/trump-touts-a-sweetheart-deal-that-doesnt-put-america-first-2017-06-29

Pepe Fanjul is a long-time supporter of various Republicans, including George W. Bush, Marco Rubio and Donald Trump.
His brother Alfonso Fanjul is a long-time Democrat supporter. He was co-chair of Bill Clinton's Florida campaign.

In 2016, Pepe with Wilbur Ross hosted a fund-raiser for Donald Trump, the same month that his brother Alfonso held a fund-raiser for Hillary Clinton.

The sugar business of the Fanjuns has profitted nicely from the U.S. Sugar Program, which involves subsidised loans, and limits of imports through tariffs and by selling quotas: https://promarket.org/sugar-industry-buys-academia-politicians/


---
RE: Bronfman, NXIVM, Epstein, Zionism and paedophilia - Firestarter - 07-17-2019



Bronfman, Branson, Dalai Lama, NXIVM



In this post a little more information on Jeffrey Epstein, but this post is mainly about Bronfman's NXIVM sex cult that is (also) affiliated to both Clinton and Trump and... the Dalai Lama).


Richard Branson's name was in the same little black book that also contained the contact numbers for Edgar Bronfman, Bill Clinton and Donald Trump:
http://nypost.com/2016/10/09/the-sex-slave-scandal-that-exposed-pedophile-billionaire-jeffrey-epstein/

Branson's own private Island is located next to the sex island of Jeffrey Epstein: http://www.mirror.co.uk/news/uk-news/jeffrey-epstein-sordid-high-life-4919588

See "Sir" Richard Branson with Sara Bronfman at Branson's private Island.




The Bronfman sisters' World Ethical Foundation invited the Dalai Lama (he came on 6 May 2009) in return for a donation of more than $1 million.
See his hypocriticalness, after he placed a Tibetan scarf round the neck of Keith Raniere.



The deal was made by Sara Bronfman and Lama Tenzin Dhonden, head of the Dalai Lama's US trust.
See the Dalai Lama on stage at the NXIVM event, with Sara Bronfman circled (I think her sister Clare is sitting to her left), Albany, New York.



Sara first met Dhonden, in Idaho in 2007. In 2008, Dhonden visited Sara in Albany and met other NXIVM members, including Raniere.
According to Susan Dones, a former top ranking member of NXIVM, everybody in the cult knew that Sara and Dhonden were having an affair (even though Dhonden made a vow of chastity):
Quote:They travelled together to California, to Seattle, to Silver Bay, and Necker Island.
They were clearly a couple, but this was hidden to outsiders, and probably the Dalai Lama, since Lama Tenzin was supposed to be a monk, and he would have been defrocked if they found out.

Frank Parlato said:
Quote:He's clearly not a true monk because we all knew he was having an affair with Sara and it was ill disguised.
NXIVM members have said they had seen Lama Tenzin at Sara's house coming out of her bedroom, it was an open secret that they were having an affair, everyone was talking about it. Keith [Raniere] would call him Sara's 'husband'.

Sara Bronfman travelled with her mother Georgina Bronfman, Allison Mack and Lama Tonzin Dohnden to the private island of Virgin billionaire Richard Branson, Necker in the British Virgin Islands.
It's also claimed that Sara bought Dhonden a house.

On 13 April 2009 the Dalai Lama wrote the foreword to a book co-authored by Raniere to boost sales.


http://www.dailymail.co.uk/news/article-5230067/Dalai-Lamas-1-MILLION-women-branding-sex-cult.html
(archived here: http://archive.is/mnXbj)


Keith Raniere graduated in Troy, New York, in 1982, having majored in physics, math, and biology.
In 1990, Raniere founded Consumers' Buyline, a multi-level marketing company.
In 1998, together with NLP trainer Nancy Salzman, he founded Executive Success Programs (ESP).
ESP was a corporate self-help program. Many of its "graduates" reported amazing results. Its alumni include Sheila Johnson (co-founder of Black Entertainment Television); Antonia Novello (former U.S. surgeon general); Emiliano Salinas (son of Mexico's former president Carlos Salinas); and Richard Branson.

In the fall of 2002, Sara Bronfman joined ESP (now called NXIVM) later joined by her sister Clare Bronfman.
In 2003, Sara's and Clare's billionaire father, Edgar Bronfman Sr, signed up for a five-day "V.I.P." course, later he began private therapy sessions with Nancy Salzman.
When Clare told Edgar Sr. Bronfman that NXIVM had borrowed $2 million from her, Bronfman soon cut his ties with NXIVM. Sara and Clare Bronfman have donated as much as $150 million to NXIVM.
Most articles claim that Keith Raniere caused a rift between the sisters and daddy Edgar Bronfman Sr.

After a less than flattering article on NXIVM appeared, Toni Natalie warned Edgar Bronfman Sr for Keith Raniere.
Natalie learned that NXIVM hired the controversial Israeli-born private investigator Juval Aviv to spy on her private life and business activities.
Sara joined NXIVM's executive board and was given the title of minister of humanities.

In 2003, 35-year-old Kristin Snyder disappeared after a NXIVM session in Alaska. Her body was never found, but in her truck a note was found:
Quote: I was brainwashed and my emotional center of the brain was killed/turned off ... Please contact my parents ... if you find me or this note. I am sorry ... I didn't know I was already dead.

In May 2009, Sara and Clare Bronfman arranged an appearance by the Dalai Lama for the NXIVM. Because both Skidmore College and Rensselaer Polytechnic declined to host the event, it was first cancelled, but then went ahead anyway (on 6 May 2009).
At one point his hypocriticalness Dalai Lama placed a scarf around Raniere's neck to show his support for NXIVM.

Two weeks before the Dalai Lama in Albany event, NXIVM was threatened by a letter to Raniere and Salzman by 9 senior members, who resigned from the group, and demanded that NXIVM pay them $2.1 million it owed them. Clare and Sara's financial manager, Barbara Bouchey, was among those who resigned. Bouchey was swiftly fired by the Bronfman sisters.
Bouchey copied evidence, before giving the originals back, because she believed that the Bronfmans were planning to "set me up". Bouchey says she has evidence of "potentially illegal activities". But was forbidden by the court from speaking about the Bronfmans' financial dealings, so could offer no evidence.

In 2010, Joe O'Hara, NXIVM's former consultant, alleged that NXIVM was involved in a variety of illegal activities, including tax evasion, money laundering, and immigration violations.
He also claimed that 2 Bronfman foundations misused tax-exempt funds, spending them on non-charitable purposes, including purchasing an expensive piano for Raniere: https://www.vanityfair.com/culture/2010/11/bronfman-201011
(archived here: http://archive.is/VsHtt)


In 1990, 1991 a 12-year-old girl, whose mother was a saleswoman for Raniere's Consumers' Buyline Inc., was sexually abused about 60 times over the course of several months by the then 29/30-year-old Keith Raniere (after he'd offered to tutor her in Algebra and Latin).
In 1993, about two years after their relationship ended, she complained to the cops. The cops refused to investigate, because the 12-year-old girl refused to wear a wire to frame Raniere.
https://www.youtube.com/watch?v=bvchHhcfvzg


In 1984, the then 24-year-old Raniere had a four-month sexual affair with the 15-year-old Gina Melita. He took her virginity in a dark room. During their relationship, he hounded the 135-pound girl to lose weight and urged her to keep their relationship a secret.

Before Melita left Raniere's life, in 1984, she introduced him to her 15-year-old friend Gina Hutchinson.
In December 1984, around the time of Gina's 16th birthday, her older sister Heidi discovered Gina was having sex with Raniere. Heidi was home from college and Raniere crawled through the window of her sister's bedroom.
Gina died in 2002, aged 33, reportedly by shooting herself in her head.
https://www.youtube.com/watch?v=l_6xkimBnkA


---