07-30-2020, 03:16 PM (This post was last modified: 07-30-2020, 03:18 PM by Firestarter.)
On July 24, 2020, Tesla's Elon Musk tweeted that: "
Another government stimulus package is not in the best interests of the people
".
Someone quickly replied to Musk on Twitter, "
You know what wasn't in the best interest of people? The U.S. government organizing a coup against Evo Morales in Bolivia so you could obtain the lithium there
".
Musk then replied:
Quote:We will coup whoever we want! Deal with it.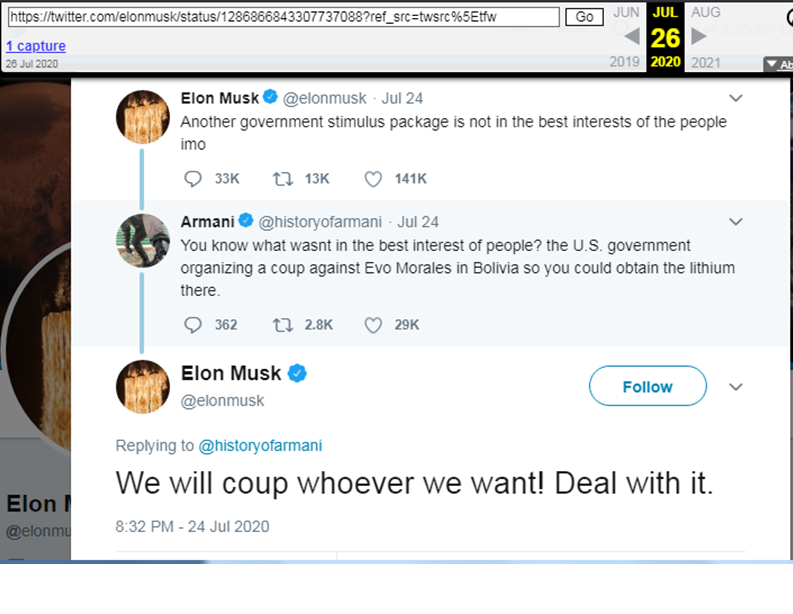 Elon Musk quickly deleted this (last) tweet, but not before it was archived:
http://web.archive.org/web/2020072618201...wsrc%5Etfw
(
http://archive.is/TxgVK
)
Evo Morales responded to Musk's tweet (translated from Spanish):
Quote:Elon Musk, the owner of the largest electric car company, says about the coup in Bolivia: 'We will coup whoever we want.' Another proof that the coup was about Bolivian lithium; at the cost of two massacres. We will always defend our resources!
Tesla of course uses Lithium that is mined in Bolivia for its highly polluting electric cars.
The illegal Jeanine Áñez government bought 170 ventilators from a Spanish supplier for $27,000 a piece. These could have been produced in Bolivia for $1,000 per ventilator.
Health minister Marcelo Navajas was arrested for this scandal:
https://www.counterpunch.org/2020/07/29/...n-bolivia/