Clinton – Cuba and China
I've heard rumours about laws in the USA that prevent politicians from receiving foreign campaign contributions…
JORGE CABRERA
The Cuban born drugs trafficker Jorge Cabrera was asked for a campaign contribution by prominent Democratic fund-raiser Vivian Mannerud in a hotel in Havana. Several days later, in November 1995, Cabrera wrote a check for $20,000 to the Democratic National Committee (DNC) from an account that included proceeds from smuggling cocaine from Colombia to the USA.
In December 1995, Cabrera attended a Christmas reception at the White House hosted by first lady Hillary Rodham Clinton, while he had earlier met Vice President Al Gore in Miami.
In 1983, Cabrera had been indicted by a federal grand jury on charges of racketeering and drug distribution. He pleaded guilty to obstruction of justice for conspiring to bribe a grand jury witness. Cabrera served 42 months in prison.
In 1988, Cabrera was charged with managing a narcotics operation. He pleaded guilty to filing a false income-tax return. He served one year in prison.
In early January 1996, Cabrera and several accomplices were inside a cigar warehouse near Dade County, Florida, where more than 500 pounds of cocaine was hidden. Cabrera was charged with importing 6000 pounds of cocaine into the USA on boats through the Florida Keys.
Cabrera pleaded guilty and was sentenced to 19 years in federal prison and a $1.5 million fine.
In October 1996, DNC returned the $20,000 check from Cabrera to the Federal Treasury, stating that it was an "improper donation".
When Cabrera was arrested, agents found a picture of Cabrera with Fidel Castro. Cabrera tried to make a deal by offering evidence that the Cuban Government was involved in drug trafficking.
In November 1995, about the time the DNC asked him for a campaign contribution, Cabrera met Castro in Havana – when he was planning the shipment that was later seized in Miami.
Cabrera said Cali Cartel boss Carlos Tascon told him of plans to send a freighter full of cocaine from Colombia to the USA through Cuban waters. Cabrera detailed how he had picked up tons of Colombian cocaine in Cuban waters out of the reach of US authorities, before he was caught.
Cabrera's co-defendant, the Colombian Alberto Franco Herrera, struck his own deal with the government and confirmed that he and Cabrera were in Cuba during the drug deal:
http://www.whatreallyhappened.com/RANCHO...reras.html
The Dole-Kemp campaign had to file a Freedom Of Information Act request to force the Clinton Justice Department to release the following photos.
In December 1995, Cabrera met Vice President Al Gore at a Miami fund-raiser.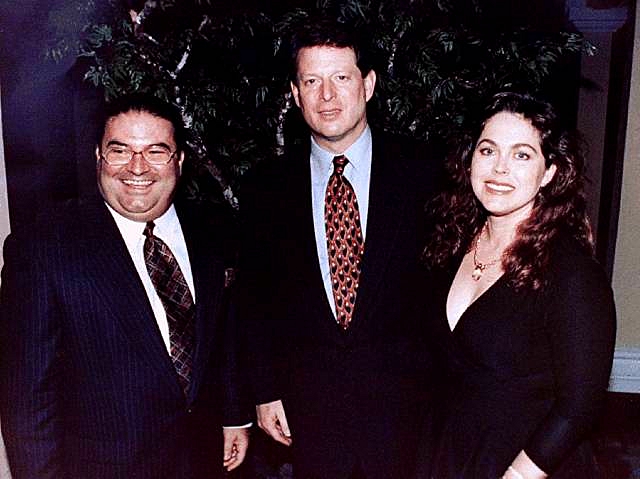 In December 1995, Cabrera attended the pre-Christmas event at the White House, here's Cabrera (on the left) with Hillary Clinton.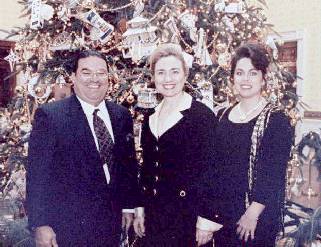 NG LAP SENG
Hillary and Bill Clinton are also connected to the Macau crime (Triad) boss, Ng Lap Seng, who donated thousands of dollars to the Clintons and deals in heroin, murder for hire, human trafficking, prostitution and gun smuggling.
Back in the days that Bill was governor, the Clintons became friends with the Arkansas restaurant owner Charlie Yah Lin Trie, a member of the "4 Seas Triad", a crime syndicate based in Hong Kong.
Ng entered the United States with over $300,000 cash in his pockets, and subsequently visited the White House 12 times. Ng also wired Charlie Trie between $1.1 million and $1.5 million, of which at least $645,000 made its way to the DNC as illegally laundered campaign contributions.
See Ng Lap Seng with the Clintons.
One of Ng's operations includes DNC fundraiser Ted Sioeng in the firm Ang-Du International. According to the Wall Street Journal, Ang-Du abducts Thai women for Macau brothels. Sioeng was also pictured with Vice President Al Gore at the Hsi Lai Buddhist Temple.
According to Marie Jose Ragab, the Clinton administration and the World Bank helped Thailand organise and nationalise their prostitution business - state-sponsored trafficking in women…
Ragab wrote in 1992: "
Last year in Thailand alone, trafficking 600,000 women and girls brought $5 billion into the country
". Millions of these women and girls have their passports confiscated by the traffickers so they can do nothing about being used for sex slavery.
In February 1996, President Clinton met with Chinese arms dealer Wang Jun after taking a donation from Charlie Trie:
http://www.wnd.com/1999/10/3848/
The following article describes that Charlie Trie and Ng Lap Seng are members of the triads:
Quote: Like other organized crime groups, triads have elaborate initiation ceremonies similar to those of the Italian Mafia and are

engaged in a range of illegal activities such as bank and credit card fraud, currency counterfeiting, money laundering, extortion, human trafficking and prostitution

.
(…)
In the U.S., congressional investigators in the 1990s identified "China-gate" fundraising scandal figure

Charlie Trie as a triad member who aided a Chinese government campaign to funnel millions of dollars to the Democratic Party. Trie was traced by investigators to Ng Lap Seng, a Macau-based triad

.
(…)
A powerful triad leader in Hong Kong was among the first to begin money laundering on behalf of China, converting billions of dollars worth of criminal money that was funnelled to China and funding the Chinese military, said Mr. McAdam, who is writing a book on the subject.
Today, Hong Kong remains one of the money-laundering capitals of the world. Authorities in Beijing announced this week they are moving to curb the transfer of cash by limiting to $8,000 the amount of U.S. currency mainlanders can bring into Hong Kong.
http://m.washingtontimes.com/news/2010/a...-targeted/
JOHN ASHE
Although Ng was identified in a 1998 Senate report as the source of hundreds of thousands of dollars illegally funnelled through Charlie Trie to the DNC, Ng was not charged with any crime.
If I understand correctly Charlie Trie did receive a prison sentence...
Only in 2016, Ng Lap Seng was charged with smuggling $4.5 million into the US since 2013 and lying that it was to buy art and casino chips.
Dr John Ashe, president of the 193-nation assembly from September 2013 to September 2014 and for years Antigua & Barbuda's Ambassador to the UN , was accused of taking more than 1 million dollars in bribes from Chinese "businessmen", including Ng.
Because Ashe had (partial?) diplomatic immunity he was (only) facing a trial for tax fraud.
Also several other co-conspirators were charged.
Ashe was awarded the Companion of the Order of St Michael and St George by Queen Elizabeth II in 2007.
Before John Ashe got the chance to testify, he suddenly died.
At first it was reported that he died of a "heart attack", but later it was claimed that his throat was crushed in an "accident" while lifting a barbell in his house in Westchester County:
http://pagesix.com/2016/06/26/disgraced-...tly-timed/