06-29-2019, 01:58 PM (This post was last modified: 11-01-2019, 04:27 PM by Firestarter.)
One of the most important families – Bronfman – you've probably never even heard of.
The Bronfmans are associated with just about anybody that matters in government, finance, media and entertainment; in the US, Canada and Israel.
Seagram bootlegging – John McCain
Edgar Bronfman Jr. was the chairman of Warner Music Group.
Charles Bronfman is the owner of Seagram liquor, net worth $2 billion.
John McCain's political career was also an offshoot of the bootlegging and rackets empire of the Bronfman dynasty of Canada.
McCain's father-in-law, Jim Hensley, got his start as a henchman of Kemper Marley who, for some 40 years until his death in 1990, was the undisputed behind-the-scenes political boss of Arizona. Marley was a protégé of Meyer Lansky's long-time lieutenant, Gus Greenbaum. It was really Jim Hensley that made McCain successful in politics.
Sam Bronfman, founder of the Seagram liquor empire, was an early partner of Meyer Lansky.
In 1947, Greenbaum took command of Lansky's Las Vegas interests after Lansky had his long-time friend, Benjamin "Bugsy" Siegel, executed for skimming profits from the new Flamingo Casino.
In 1948, Greenbaum and his wife were murdered by having their throats cut.
In 1948, some 52 of Marley's employees (including Jim and his brother Eugene Hensley) went to jail on federal liquor violations - but not Marley.
Jim Hensley also tried his hand on dog racing and sold his dog racing track to an individual connected to the Buffalo-based Jacobs family. The Jacobs were the leading distributors for Bronfman liquor into the US during Prohibition into the hands of local gangs of the Lansky syndicate.
In 1976, Phoenix reporter Don Bolles was murdered by a car-bomb after writing stories on the organised crime connections of well-known figures in Arizona, including Jim Hensley:
http://www.libertylobby.org/election2000...sters.html
(archived here:
http://archive.is/SQU71
)
More details on James "Jim" Hensley and his older brother Eugene can be found in the following story.
The Hensley brothers were partners with a powerful Phoenix businessman named Kemper Marley, who had cornered a large share of Arizona's wholesale liquor business after Prohibition was lifted in 1933.
The Hensleys and Marley continued their partnerships by creating 2 corporations in 1946 - United Sales Incorporated in Phoenix, and United Distributors Incorporated in Tucson. At that time, Eugene Hensley was president of both companies, while James Hensley served as secretary. Kemper Marley was vice president of these companies.
According to a federal criminal indictment from 1945 to 1947, the Hensleys made approximately 1,284 false entries for the sale of thousands of cases of liquor by their two companies - United Sales Company in Phoenix and United Distributors in Tucson.
Joseph F. Ratliff testified that Jim Hensley falsified invoices.
Jack Baldwin, salesman and supervisor at United Sales, testified that Eugene Hensley regularly instructed him to draw up false invoices, transfer scores of cases of liquor offsite and deliver premium whiskeys to selected black-market clients.
In 1948, Jim Hensley was sentenced to 6 months in jail and his brother Eugene to one year. After 2 weeks in Maricopa County jail, they were released on bond on 17 May 1948, pending an appeal. The appeals court affirmed the conviction on 8 February 1949.
Eugene was again sentenced to 1 year in a federal prison camp near Tucson, but Jim's sentence was suspended, and he was placed on probation instead. They were also fined $2,000. United Sales and United Distributors were also fined $2,000.
In 1953, Jim Hensley was again charged with federal liquor crimes. This time, the government accused Jim and others of United Liquor Company and United Liquor Supply Company of falsifying records to evade taxes. A jury acquitted the 2 companies and its employees on all 11 counts.
In 1952, Jim and his brother Eugene Hensley purchased the Ruidoso Racing Association in New Mexico. The New Mexico Racing Commission was concerned about the Hensley brothers' ties to Phoenix gambler Clarence E. "Teak" Baldwin.
The Hensleys denied that Baldwin had an interest in the track, but records indicated that Baldwin had a one-third stock interest in the track.
In 1963, Eugene Hensley was sued by minority partners for $415,000. They accused him of using track money to improve his Scottsdale home, build a guest house for his personal use, and used the track's airplane for personal pleasure. The lawsuit was settled after Eugene Hensley agreed to return 1,000 shares of Ruidoso Racing Association stock that was worth $350,000.
In 1966, Eugene Hensley was again accused of tax evasion. He was convicted in a trial that showed he had used track money to buy several cars and given them to his wife and a girlfriend. In 1969, Eugene Hensley entered a federal prison in Texas.
In 1969, Eugene Hensley sold his remaining interest in the track to NewCo Industries Incorporated, which immediately signed a 20-year concession contract with Emprise Corporation of Buffalo, New York.
On 2 June 1976, Don Bolles was fatally wounded by a car bomb. Before lapsing into a coma, Bolles uttered the words, "
Adamson, Emprise, Mafia
". He died 11 days later.
Adamson testified he was hired to kill Bolles by Max Dunlap, a close associate of Marley's, and that the bomb was detonated by James Robison. Marley had extended a $1 million loan to Dunlap, which wasn't repaid.
Adamson served a 20-year prison sentence and has since been released. Dunlap was sentenced in 1994 to life in prison for first-degree murder.
Robison was first convicted, but his case was overturned on appeal and he was acquitted in a 1993 retrial:
http://prorev.com/2008/08/mccain-story-m...d-you.html
(archived here:
http://archive.is/OL9pB
)
See John McCain meeting the husband of Sara Bronfman, Basit Igtet, in Benghazi, Syria, 2011.
Trudeau
Trudeau's link to the Bronfman family aren't mentioned nearly enough...
Justin Trudeau's long-time friend is Stephen Bronfman, cousin of Clare and Sara Bronfman. Since 2013, Bronfman assisted Trudeau in his meteoric rise to Canadian Prime Minister as chief fundraiser and senior adviser.
See Stephen Bronfman (left) with his buddy Justin Trudeau, 28 Augustus 2013.
Bronfman runs the Montreal-based investment firm Claridge, to manage the vast wealth of the Seagram liquor empire, which became rich in the 1920s by supplying illicit alcohol to the US during the prohibition.
One of Claridge's clients was the Cayman Islands-based trust of Leo Kolber, Stephen Bronfman's godfather and chief fundraiser of the Liberal party. Kolber was a long-time friend of Pierre Trudeau, Justin's father, who as PM appointed Kolber to the Canadian senate in 1983.
In November 2017, controversial news on Stephen Bronfman's tax evasion schemes, involving millions of dollars to offshore havens, was published. Multimillion-dollars flowed between the US, Canada, Israel and the Cayman Islands.
Bronfman and Kolber really formed one intertwined syndicate. The loan arrangements were unusual. For example a contract tied to a Charles Bronfman loan in 1991 of almost $ 10 million said: "
The loan shall bear interest at such rate as may be determined between the parties from time to time
".
After switching the debt from Claridge Israel, the Kolber trust paid the US-based Bronfman trusts about $40,000 in interest. A related email said:
Quote:As there was never supposed to be interest paid on this debt in substance (only in form), the [Kolber trust] needs to be compensated by the Bronfman trusts for these cash outlays, in some manner to be agreed upon by both parties.
One idea was to get Kolber to register the interest paid to Claridge as "
a fee for services rendered, equal to the interest
.
See a second email from May 2004, where the financial adviser details how the interest issue might be resolved, with the "
intention to 'make you whole' somehow
".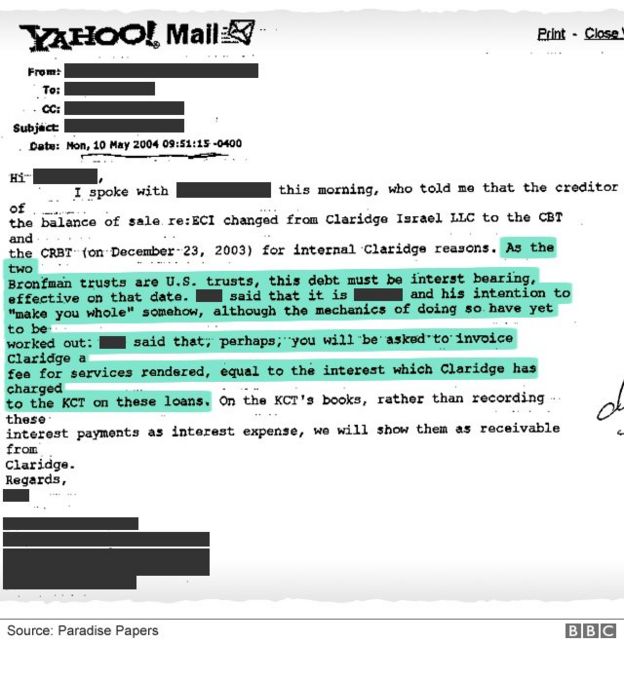 A lawyer representing Jonathan Kolber and the Bronfmans denied improper activity:
https://www.theguardian.com/news/2017/no...ise-papers
(archived here:
http://archive.is/PlSqe
)
Leo Kolber once referred to himself as the Bronfman family's "consigliere".
The Bronfmans helped start the Kolber trust in 1991 with millions of dollars, including a $5.3 million loan in 1997. By then the trust had already collected almost $40 million. In total the Bronfman family and their US-based trusts loaned the Kolber Trust more than $34 million. All of it ended up in the no-tax Cayman Islands.
At least some of the loans were interest free, including a $4 million loan in 2002 from Claridge to the Kolber Trust. Interest-free loans are often used for money laundering and/or tax evasion schemes...
Huge amounts were transferred from the Kolber Trust to Leo's children.
In 2007, $3 million was wired to Jonathan Kolber for "living expenses" and to purchase a Manhattan apartment. In total, he received $16.5 million tax-free from the trust.
Lynne Kolber received $1.2 million, but got into tax problems. In 2007, Lynne "forgot" to declare $1.27 million from the trust for the previous decade, for which she had to pay back taxes.
The trust managers devised a plan so she could get funds tax-free, by "gifts" from her brother Jonathan. In the US, gifts between family members are tax-free.
In 2014, Israel tightened its offshore trust laws, and in 2016 the Kolber Trust was dissolved:
https://www.cbc.ca/news/business/stephen...-1.4382511
(archived here:
http://archive.is/i5dfF
)
Bush, Munk
More interesting links from the Bronfman family to:
- Peter Munk - Nat Rothschild's and Oleg Deripaska's business partner.
- George H.W. Bush – former US President and CIA director.
- Adnan Khashoggi – arms dealer, amongst others to Ayatollah Khomeini's Iran in the 1980s.
The late Peter Munk was the chairman of both Barrick Gold Corp and Trizec. Munk was a close friend of the Bronfmans, who owned Trizec. Trizec is a real estate conglomerate that owns a large share of Barrick.
Peter Munk was a regular skiing partner of Crown Prince Charles. Munk was a member of the "1001 Club" founded by Prince Philip of Britain and Prince Bernhard of the Netherlands.
Munk and Barrick director Andrew Sarlos are close associates of Rothschild agent George Soros, a personal investment director to Queen Elizabeth.
George Bush Sr. was Barrick Gold's chief lobbyist, stockholder in Barrick, and honorary senior adviser to Barrick's international advisory board.
Brian Mulroney, was George Bush's errand boy, Canadian PM (1984-93) and also on Barrick's international advisory board.
In 1974, Munk signed an investment partnership agreement with the late Saudi arms-trafficking billionaire Adnan Khashoggi.
Khashoggi was one of the main funders of Barrick Gold Corp.:
https://www.larouchepub.com/eiw/public/1..._and_b.pdf
Khashoggi, Manafort
Mohamed al-Fayed worked for Khashoggi and married Adnan's sister, Samira Khashoggi, Dodi's mother.
Adnan Khashoggi was once arrested for helping Ferdinand and Imelda Marcos with embezzling money:
https://www.independent.co.uk/News/obitu...76776.html
Bronfman's and Oliver North's Saudi partner in crime, Adnan Khashoggi, has been involved in a bunch of scandals. There are stories about: Iran-Contra, money laundering for Ferdinand Marcos and 9/11.
Khashoggi's second wife, the Italian Laura Biancolini, was only 17 when they met.
Much of Adnan Khashoggi's fortune, once estimated at $4 billion (he was once described as the "richest man in the world"), came from selling arms.
He received huge commissions (as high as 15%) from Lockheed Martin (from the US), the British firms Marconi and Westland Helicopters.
Khashoggi earned $184 million on $4.2 billion worth of F-5 fighter planes from Northrop to Saudi Arabia in 1970. Northrop also admitted it paid $450,000 to two Saudi generals at Khashoggi`s suggestion. Khashoggi had close ties to the Saudi royal family and also arranged billions of dollars worth of arms from Lockheed. Lockheed and Northrop also paid huge commissions to Prince Bernhard of the Netherlands…
Some of Khashoggi's commissions were probably laundered through front companies in Switzerland and Liechtenstein.
In the 1960s, Khashoggi became friends with Richard Nixon (him again…) and funded his US Presidential election campaigns.
In 1994, Khashoggi accused his rival Wafic Said of securing an arms deal for Britain by using Mark Thatcher and then PM Margaret Thatcher. Mark Thatcher denied that he received $18 million in kickbacks.
In March 2003, the New Yorker reported that Khashoggi met Richard Perle shortly before the invasion of Iraq started.
Khashoggi was wanted by the US government for helping former dictator of the Philippines, Ferdinand Marcos, hide his wealth.
Khashoggi helped Marcos conceal his ownership of several Manhattan skyscrapers. He was accused of helping Marcos and wife Imelda, concealing $103 million of looted Philippine tax money and defrauding $165 million from US banks:
https://www.independent.co.uk/news/long_...78031.html
(archived here:
http://archive.is/N4wh4
)
Trump's former campaign chairman, Paul Manafort, was also in business with Filipino dictator Ferdinand Marcos.
There is an even closer connection between Manafort and Khashoggi through his representative in Spain - Abdul Rahman Al Assir from Lebanon. Al Assir was once brother-in-law of Adnan Khashoggi. He arranged big weapons sales to African armies.
The London-based Sourakia once wrote:
Quote:The miracle of Al Assir is that he will have lunch with Don Juan Carlos [king of Spain], dinner with Hassan II [king of Morocco], and breakfast the next day with Felipe González [prime minister of Spain].
In the late 1980s, Manafort became friends with Al Assir. In 1989, Manafort took Al Assir as his guest to George H.W. Bush's inauguration.
In the '90s, Manafort and Al Assir were putting together big deals. Including an arms sale from France to Pakistan, that involved bribes and kickbacks to high-level officials in both countries. Manafort and Al Assir were not only business partners but even "very brotherly". Manafort became the godfather of Al Assir's child. They went on a holiday together near Cannes.
In 2003, Manafort's partner Rick Davis was invited to a meeting in Manhattan with Nathaniel "Nat" Philip Victor James Rothschild, heir apparent to the Rothschild trillions:
https://www.theatlantic.com/magazine/arc...er/550925/
(archived here:
http://archive.is/xZp9Z
)
Adnan Khashoggi was also one of the financial backers of the jazz movie "
The Cotton Club
" (1984).
Robert Evans was the film's producer, who hired Francis Ford Coppola as director for the film.
Robert Evans has been married 7 times, including to Camilla Sparv (1964-1967) and Catherine Oxenberg (for 1 ½ weeks in 1998).
Camilla Sparv's third husband is one Fred Kolber (I haven't found any information on him and don't know if he's related to Leo…).
Catherine Oxenberg is best known for her role of Amanda Carrington in Dynasty, but in this context it's more important that she has complained that her daughter is a mind-controlled slave of the NXIVM cult.
In 1980, Robert Evans was convicted of cocaine trafficking (with his brother Charles):
https://wikivisually.com/wiki/Robert_Evans
Donald Trump once boasted about buying the "greatest yacht in the world" from Adnan Khashoggi:
https://www.youtube.com/watch?v=yuWMH5TD5bE
Deutsche Bank
In 2001, it was reported that Irene Marcos Araneta, daughter of the late dictator Ferdinand Marcos (he died before his trial was finished), tried to move her family's wealth - including at least $13.2 billion at the Union Bank of Switzerland (UBS) - into a newly opened account at Deutsche Bank:
http://edition.cnn.com/2001/WORLD/asiapc...rcos.loot/
Again the Deutsche Bank…
In 1997, Mayo Shattuck was made trustee of the Bronfman's Seagram Company, Ltd.
In 1997, Shattuck helped engineer the $1.7 billion merger of Alex. Brown and Sons and Bankers Trust. Two years later, the company was acquired by Deutsche Bank, and Shattuck served as head of Investment Banking and Private Banking and chairman of Deutsche Bank Alex. Brown.
After the 9/11 options fraud through Deutsche Bank Alex. Brown, Shattuck resigned on 12 September 2001:
https://en.wikipedia.org/wiki/Mayo_A._Shattuck_III