In February 2013, Angela Chen invited China's Ambassador to the US Sun Guoxiang and none other than British Crown agent, Donald's handler and Commerce Secretary Wilbur Ross to her party.
See Angela and Wilbur pictured together again in January 2019.
See Angela Chen in the middle, with on her left reportedly the most famous Chinese woman Yue Sai Kan (with a US passport), and on the right Ghislaine Maxwell.
Yue Sai Kan is one of two co-chairs of the China Institute in America, which hosted the first Confucius Institute in New York.
Confucius Institutes are paid for by the Chinese Government.
Yue Sai Kan is also Ambassador & Chairwoman of The China Beauty Charity Fund; a subsidiary of the Shanghai Soong Ching Ling Foundation.
The Shanghai Soong Ching Ling Foundation, is a branch of the China Welfare Institute which is a Chinese Government organisation:
https://twitter.com/911CORLEBRA777/statu...8710437888
(
https://archive.is/CRdWP
)
Yue Sai Kan is pictured at even more parties of the New York elite than Angela Chen.
Yue Sai is oh so concerned with those poor pandas.
In January 2017, Yue Sai Kan hosted a panda fundraiser (where I guess that Donald Trump was an important discussion point).
Attendees included the Trump-associated Leonard Lauder and Maurice "Hank" Greenberg:
https://nymag.com/intelligencer/2017/03/...andas.html
Other attendees were Jonathan and wife Somers Farkas:
https://pagesix.com/2017/01/24/yue-sai-k...apartment/
Jonathan's relative Andrew Farkas was/is of course friend/business partner of Jeffrey Epstein, Carl Icahn, Donald Trump and Jared Kushner:
https://www.lawfulpath.com/forum/viewtop...485&p=6254
Lara Spencer, who once hosted Donald's Miss Universe show, in May 2014 hosted an event in honour of Yue Sai Kan:
http://tipsydiaries.com/2014/05/06/dom-p...ee-in-nyc/
See Jared Kushner, Ivanka Trump, Donald Trump and Lara Spencer, at another party on 1 April 2014 (which also included the Chinese ex-wife of Rupert Murdoch, Wendi Deng).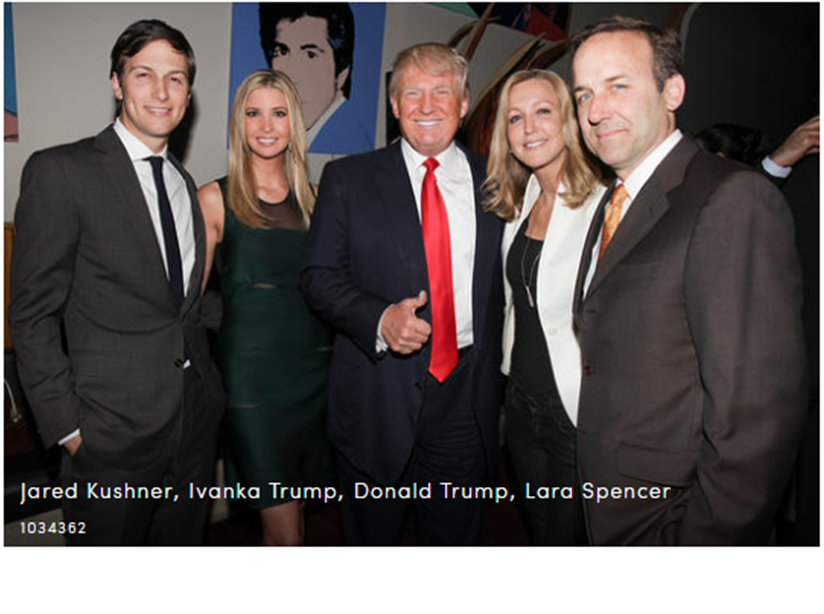 https://bfa.com/home/photo/1034362?people=lara-spencer
(
https://archive.is/9noui
)